OPEN-MINDED LORDS ON ACCIDENT COMMITTEE.
4th February 1938
Page 4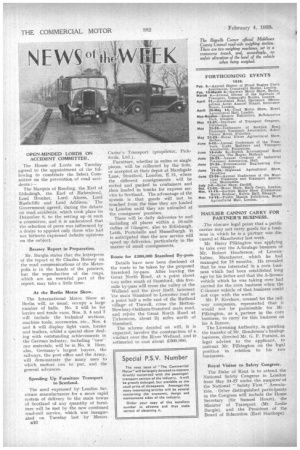 Page 5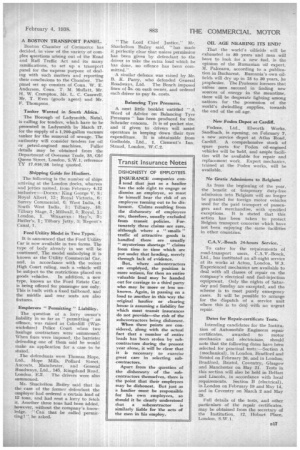 Page 4, 4th February 1938 —
OPEN-MINDED LORDS ON ACCIDENT COMMITTEE.
Close
Keywords :
The House of Lords on Tuesday agreed to the appointment of the following to constitute the Select Committee on the prevention of road accidents :— The Marquis of Reading, the Earl of Iddesleigh, the Earl of Birkenhead, Lord Brocket, Lord Alness, Lord Rushcliffe and Lord Addison. The Government agreed, during the debate on road accidents, which took place on December 8, to the setting up of such a committee, and it is understood that the selection of peers was influenced by a desire to appoint only those who had not hitherto expressed definite opinions on the subject.
Bressey Report in Preparation.
Mr. Burgin states that the letterpress of the report Of Sir Charles Bressey on the road communications of the Metropolis is in the hands of the printers, but the reproduction of the maps, which are an essential part of the report, may take a little time.
At the Berlin Motor Show.
The International Motor Show at Berlin will, as usual, occupy a large number of halls. No. 2 will be for lorries and trade vans, Nos. 3, 5 and 7 will include the technical sections, machine tools, accessories, etc., Nos. 4 and 8 will display light vans, lorries and trailers, whilst a special show dealing with outstanding achievements in the German industry, including "new" raw materials, will be in No. 9, Here, also, Germany's largest buyers, the railways, the post office and the Army, will demonStrate the many uses to which motors can be put, and the general advances.
Speeding Up Furniture Transport to Scotland.
The need expressed by London furniture manufacturers for a more rapid system of delivery to the main towns of Scotland of any quantity of furniture will be met by the new combined road-rail service, which was inaugurated on Tuesday last by Messrs.
B16 Carter's Transport (proprietor, Pickfords, Ltd.).
Furniture, whether in suites or single pieces, will be collected by the firtn, or accepted at their depot at Marshgate Lane, Stratford, London, E.15, where the different consignments will be sorted and packed in containers and then loaded in trucks for express service to Scotland. The advantage of the system is that goods will not be touched from the time they are loaded in London until they are unloaded at the consignees' premises.
There will be daily deliveries to and including all places within a 10-mile radius of Glasgow, also to Edinburgh, Leith, Portobello and Musselburgh. It is anticipated that the new service will speed up deliveries, particularly in the matter of small consignments.
Route for £300,000 Stamford By-pass.
Details have now been disclosed of the route to be taken by the proposed Stamford by-pass. After leaving the Great North Road, at a point about two miles south of Stamford, this fivemile by-pass will cross the valley of the Welland and the river itself, intersect 'the main Stamford to Leicester road at a point half a mile east of the Rutland village of Tinwell, cross the MeltonMowbray-Oakham-Stamford main road, and rejoin the Great North Road at Tickencote. about 2i miles north of Stamford.
The scheme decided on will, it is expected, involve the construction of a viaduct over the River Welland, and is estimated to cost about £300,000. HAULIER CANNOT CARRY FOR PARTNER'S BUSINESS.
.The obscure legal point that a public carrier may not carry goods for a business in which he is a partner was discussed at Manchester last week.
Mr. Harry Pilkington was applying to take over the A-haulage business of Mr. Robert Henderson, of Levenshulme, Manchester, which he had managed for 18 months. He revealed that be was interested in a corn business which had been established long ago by his father and that the A-licence vehicle which he was taking over had carried for the corn business when the C-licence vehicle of that business could not cope with the work.
Mr. P. Kershaw, counsel for the railway companies, represented that it would not b permissible for Mr. Pilkington, as a. partner in the corn business, to carry for this business on his A licence.
The Licensing Authority, in granting the transfer of Mr. Henderson's haulage business, directed Mr. G. F. Furniss, as legal adviser to the applicant, to instruct Mr. Pilkington on the legal position in . relation to his two businesses.
Royal Visitor to Safety Congress.
The Duke of Kent is to attend the National Safety Congress in London from May 24-27 under the auspices' of the National " Safety First " Association. Other distinguished participants in the Congress will include the Home Secretary (Sir Samuel Hoare), the Minister of Transport (Mr. Leslie Burgin), and the President of the Board of Education (Earl Stanhope). A BOSTON TRANSPORT PANEL. Boston Chamber of Commerce has decided, in view of the variety of complex questions arising out of the Road and Rail Traffic Act and its many ramifications, to set up a transport panel for the express purpose of dealing with such matters and reporting their conclusions to the Chamber. The panel set up consists of Conn. W. E. Anderson, Coun. T. M. Moffatt, Mr. FL W. Crampton, Mr. L. C. Casswell, Mr. T. Eves (goods agent) and Mr. F. Thompson.
Tanker Wanted in South Africa.
The Borough of Ladysmith, Natal, • is calling for tenders, which have to be presented in Ladysmith by March 17, for the supply of a 1,200-gallon vacuum tanker for the removal of sewage. The authority will consider tenders for oil or petrol-engined machines. Fuller details may be obtained from the Department of Overseas Trade, 35, Old Queen Street, London, S.W.1, reference TV 17,016/38 being quoted.
Shipping Guide for Hauliers.
The following is the number of ships arriving at the London docks, wharves and jetties named, from February 4-12 inclusive :—DOCKS: King George V, 8; Royal Albert, 13' Royal Victoria, 6 ; Surrey Commercial, 6; West India, 4; South West India, ; Tilbury, 10; Tilbury Stage, 3; Millwall, 5; Royal, 1; London, 1. WHARVES Hay's, 5; Butler's, 1; Tilbury Jetty, 3; 'Regent's Canal, 1,
Ford Utility Model in Two Types.
It is announced that the Ford Utility Car is now available in two forms. The type of body already in use will be continued. The model embodying it is known as the Utility C.ornmercial Car, and, in accordance with the recent High Court ruling, such a vehicle will be subject to the restrictions placed on goods vehicles. In addition, a new type, known as the Ford Estate Car, is being offered for passenger use only. This is built with a fixed tailboard, and the middle and rear seats are also fixtures.
Employers " Permitting " Liability.
The question of a lorry owner's liability in so far as " permitting." an offence, was raised at Coleshill (Warwickshire) Police Court when two haulage contractors were summoned: When fines were imposed, the barrister defending one of them said he would make an application for a case to be stated.
The -defendants were Thomas Hope, Ltd., Hope Mills, Pollard Street, Ancoats, Manchester, and General Roadways, Ltd., 145, Kingsland Road, London, E.2. The drivers were also summoned.
Mr. Shackelton Bailey said that in the case of the former defendant the employer had ordered a certain load of 12 tons, and had sent a lorry to fetch it. Another three tone had been added, however, without the company's knowledge. " Can that be called permitting? " he asked. " The Lord Chief Justice," Mr. Shackelton Bailey said, "has made it perfectly clear that unless permission has been given by defendant to the driver to take the extra load which he has done, no offence has been committed."
A similar defence was raised by Mr. B. K. Parry, who defended General Roadways, Ltd. The Bench imposed 'fines of 55. on each owner, and ordered each driver to-pay 4s. costs.
Balancing Tyre Pressures.
A neat little booklet entitled " A Word of Advice on Balancing Tyre Pressures" has been produced for the Schrader concern_ It is of pocket size, and if given to drivers will assist operators in keeping down their tyre expenditure. It is obtainable from Godbold, Ltd., 1, Clement's Inn, Strand, London, W.C.2.
OIL AGE NEARING ITS END?
That the world's oilfields will be exhausted in 80 years and men will have to look for a new fuel, is the opinion of the Rumanian oil expert, M. Palcea.nu, according to a publication in Bucharest. Rumania's own oilfields will dry up in 25 to 30 years, he prophesies. The Professor foresees that unless men succeed in finding new sources of energy in the meantime, there will be desperate fighting among nations for the possession of the world's dwindling supplies, towards the end of the oil age.
New Foden Depot at Cardiff.
Fodens, Ltd., Elworth Works. Sandbach, is opening, on February 7, a new service depot at Atlas Road, Cardiff. A comprehensive stock of spare parts for Foden oibengined vehicles will be held, and ample facilities will be available for repair and replacement work. Expert mechanics, trained at the Foden works, will be available.
No Gratis Admissions to Belgium!
As from the beginning of the year, the benefit of temporary duty-free admission into Belgium will no longer be granted for foreign motor vehicles used for the paid transport of passengers and merchandise, with specified exceptions. It is stated that this action has been taken to protect Belgian transport concerns which have not been enjoying the same facilities in other countries.
C.A.V.-Bosch 24-hours Service.
To cater for the requirements of road-transport users, C.A.V.-Bosch, Ltd., has instituted an all-night service at its works at Acton, London, W.3. Experienced mechanics are available to deal with all classes of repair on the company's electrical and fuel-injection equipment. Only the nights of Saturday and Sunday are excepted, and the scheme is to meet purely emergency cases. It will he possible to arrange for the dispatch of a service unit where this is to deaf with an urgent repair.
Dates for Repair-certificate Tests.
Intending candidates for the Institution of Automobile Engineers repair certificates, awarded to motor mechanics and electricians, should note that the following dates have been selected for practical tests:---Section A (mechanical), in London, Bradford and Bristol on February 26, and in London, Bradford, Bristol, Coventry, Glasgow and Manchester on May 21. Tests in this section will also be held in Belfast and Lincoln, in accordance with local requirements. Section B (electrical), in London on February 19 and May 14, and in Coventry on March 2 and May 28.
Full details of the tests, and other particulars of the repair certificates, may be obtained from the secretary of the Institution, 12, Hobart Place, London, S.W.].
Tags
Organisations
:
High Court
,
Police Court
,
Licensing Authority
,
Army
,
Boston Chamber of Commerce
,
Institution of Automobile Engineers
,
Congress
,
House of Lords
,
Board of Education
,
Department of Overseas Trade
,
Select Committee
People
:
Charles Bressey
,
Royal Victoria
,
Samuel Hoare
,
G. F. Furniss
,
Tilbury Stage
,
Addison
,
P. Kershaw
,
Earl Stanhope
,
L. C. Casswell
,
Millwall
,
Royal Albert
,
M. Palcea.nu
,
George V
,
F. Thompson
,
Leslie Burgin
,
B. K. Parry
,
Harry Pilkington
,
Shackelton Bailey
,
Robert Henderson
,
T. Eves