COMBINED BUS AND FERRY CONTRACTS
4th February 1938
Page 32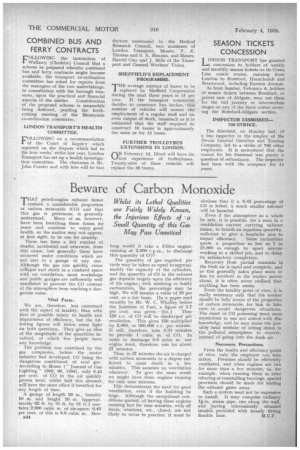 Page 32, 4th February 1938 —
COMBINED BUS AND FERRY CONTRACTS
Close
Keywords :
FC:alfasWeyIN(Gchesthihree) instructionat oaf
scheme be prepared whereby combined bus and ferry contracts might become available, the transport co-ordination committee has asked for reports from the managers of the two undertakings, in consultation with the borough treasurer, upon the practical and financial aspects of the matter. Consideration of the proposed scheme is meanwhile being deferred, pending the forthcoming meeting of the Merseyside co-ordination committee.
LONDON TRANSPORT'S HEALTH 'COMMITTEE.
FOLLOWING on a recommendation of the Court of Inquiry which reported on the dispute which led to the four weeks' strike last year, London Transport has set up a health investigation committee. The chairman is Mr. John Forster and with him will be two
doctors nominated by the Medical Research Council, two nominees of London Transport, Messrs. T. E. Thomas and S. A. Menzies, and Messrs. Harold Clay and J. Mills of the Transport and General Workers' Union.
SHEFFIELD'S REPLACEMENT PROGRAMME.
THE average number of buses to be replaced by Sheffield Corporation during the next three years is 15 per year. If the transport committee., decides to construct bus bodies, -this number of vehicles will ensure the employment of a regular staff and an even output of •mork, inasmuch as it is estimated that the staff • required to construct 10 trams is approximately the same as for 15 buses.
FURTHER TROLLEYBUS EXTENSIONS IN LONDON.
February 13, Ilford will have its • Jfirst experience of trolleybuses. Twenty-nine of these vehicles will replace the 35 trams.
SEASON TICKETS CONCESSION
T ONDON TRANSPORT has granted .L.Ja concession to holders of weekly and monthly season tickets on its Green Line coach routes, running from London to Romford, Hornchurch and Brentwood, including Fastern Avenue.
As from Sunday, February 6, holders of season tickets between Romford, or points east of Aldgate, may use them for the full journey or intermediate stages on any of the three routes covering the Romford-Aldgate section.
INSPECTOR DISMISSED700 STRIKE.
The dismissal, on Monday last, of a bus inspector in the employ of the Devon General Omnibus and Touring Company, led to a strike of 700 other employees. It is understood that the reason for his dismissal was purely a question of redundancy. The inspector had been with the company for 14 years.