A Sale Claim Fails I N the King's Bench Division, on
4th February 1938
Page 31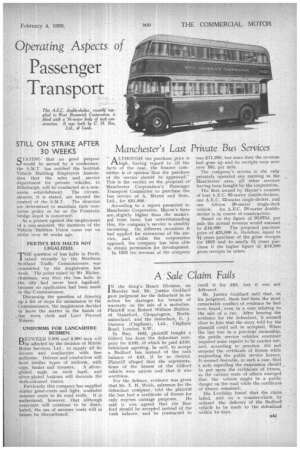 Page 31, 4th February 1938 —
A Sale Claim Fails I N the King's Bench Division, on
Close
Monday last, Mr. Justice Goddard gave judgment for the defendant in an action for damages for breach of warranty on the sale of a motorbus. Plaintiff wasRobert William Britton, of Stakeford, Chcippington, Northumberland, and the defendant, G. J. Dawson (Clapham), Ltd., Clapham Road, London, S.W.
In May, 1935, plaintiff bought a Gifford bus from the defendant company for £195, of which he paid £150, defendant agreeing, he said, to accept a Bedford bus instead of the cash balance of £45, if he so desired. Plaintiff alleged that the representations of the fitness of the Gifford vehicle were untrue and that it was worthless.
For the defence, evidence was given that Mr. T. H. Webb, salesman for the defendant company,• told the plaintiff the _bus had a certificate of fitness for only express carriage purposes. He said it was agreed that the Bedford should be accepted instead of the cash balance, and he contracted to resell it for £95, but it was not delivered.
Mr. Justice Goddard said that, in his judgment, these had-been the most remarkable conflict of evidence he had ever, heard, even in a case relating to the sale of a car. After hearing the evidence for the defendant, it seemed clear to him that the story told for the plaintiff could not be accepted. When the bus was in a previous ownership, the public service vehicles examiner required some repairs to be carried out, and, according to practice, did not suspend the certificate of fitness while suspending the public service licence. It seemed desirable, in such a case, that a note regarding the suspension should be put upon the certificate of fitness, as the curious state of affairs emerged that the vehicle might be a public danger on the road while the certificate of fitness remained.
His Lordship found that the claim failed, and on a counter-claim he ordered the delivery of the Bedford vehicle to be made to the defendant within 14 days.