One Hears
4th February 1938
Page 3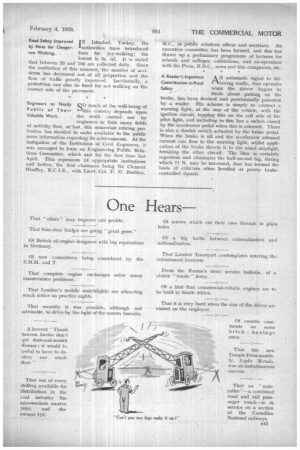 Page 3, 4th February 1938 —
One Hears
Close
That " oilers " may improve cab profits.
That four-shoe bralc.,es are going "great guns."
Of British oil-engine designers with big reputations in Germany.
Of new committees being considered by the S.M.M. and T.
That complete engine exchanges solve many maintenance problems.
That London's mobile searchlights are attracting much notice on practice nights.
That recently it was possible, although not advisable, to drive by the light of the aurora borealis.
A fervent " Thank heaven lorries don't get foot-and-mouth disease; it Would be awful to have to destroy our whole fleet."
That out of every shilling available for distribution in the coal industry the• mineworkers receive 101d. and the owners lid.
Of screws which cut their Own threads in plain holes.
Of a big battle between rationalization and nationalization.
That London Transport contemplates entering the refreshment business.
From the Rootes's news service bulletin, of a clutch tozzle " lever.
Of a hint that commercial-vehicle engines are to be built in South Africa.
That it is very hard when the sins of the driver are visited on the employer.
Of caustic comments on some brick haulage rates.
That the new Temple Press month ly, Light Metals, was an instantaneous success.
That an "autorailer "—a combined road and rail passenger coach—is in service on a section Of the Canadian National railways.