OPINIONS
4th February 1938
Page 29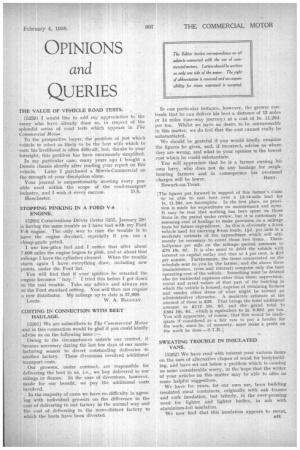 Page 30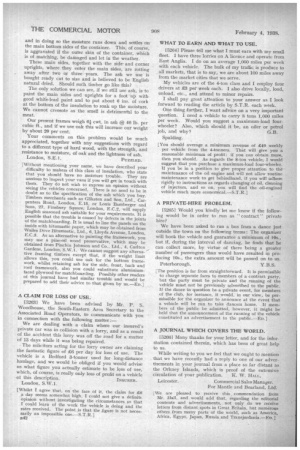 Page 29, 4th February 1938 —
OPINIONS
Close
Keywords :
and
QUERIES
THE VALUE OF VEHICLE ROAD TESTS.
[5259] I would like to add my appreciation to the many who have already done so, in respect of the splendid series of road tests which appears in The Commercial Motor.
To the prospective buyer, the problem of just which vehicle to select as likely to be the best with which to earn his livelihood is often difficult, but, thanks to your foresight, this problem has been enormously simplified.
In my particular case, many years ago I bought a Dennis chassis shortly after reading your report on this vehicle. Later I purchased a Morris-Commercial on the strength of your discription alone.
Your journal is unquestionably meeting every possible need within the scope of the road-transport industry, and I wish it every success. D.S. Manchester.
STOPPING PINKING IN A FORD V-8 ENGINE.
[52601 Conscientious Driver (letter 5255, January 28) is having the same trouble as I have had with my Ford V-8 engine. The only way to cure the trouble is to have the engine decoked, especially if you use a cheap-grade petrol.
I use low-price fuel and I notice that after about 7,000 miles the engine begins to pink, and at about that mileage I have the cylinders cleaned. When the trouble starts again I have everything done, including new points, under the Ford list.
You will find that if your ignition be retarded the engine becomes "lazy." I tried this before I got down to the real trouble. Take my advice and always run to the Ford standard setting. You will then not require a new distributor. My mileage up to date is 37,000.
Leeds. W. A. BAGTJLEY.
COSTING IN CONNECTION WITH BEET • HAULAGE.
[5261] We are subscribers to The Commercial Motor and in this connection would be glad if you could kindly advise us on the following issue:— Owing to the circumstances outside our control, it became necessary during the last few days of our manufacturing season to divert outstanding deliveries to another factory. These diversions involved additional transport costs.
Our growers, under contract, are responsible for delivering the beet to us, i.e., we buy delivered to our • sidings or flumes. In the case of diversions, however, made for our benefit, we pay the additional costs involved.
In the majority of cases we have no difficulty in agreeing with individual growers on the difference in the cost of delivering to our factory in the normal way and the cost of delivering to the more-distant factory to which the beets have been diverted. In one particular instance, however, the grower contends that he can deliver his beet a distance of 13 miles or 14 miles (one-way journey) at a cost of is. 11.26d. per ton. Whilst we have no desire to be unreasonable in this matter, we do feel that the cost cannot really be substantiated.
We should be grateful if you would kindly examine the figures he gives, and, if incorrect, advise us where they are wrong, and what in your opinion is the lowest cost which he could substantiate.
You will appreciate that he is a farmer owning his own lorry, who does not do any haulage for neighbouring farmers and in consequence his overhead charges will be lower. BEET. Newark-on-Trent.
[The figures put forward in support of this farmer's claim 'to be able to cart beet over a 13-14-mile lead for Is. 11.26d. are incomplete. In the first place, no provision is made for expenditure on maintenance and tyres. It may he true that nothing has been spent" on those items in the period under review, but it is customary in assessing cost of haulage to make provision on a mileage basis for future expenditure. As this is obviously a 3-ton vehicle used for carrying 6-ton loads, lid. per mile is a moderate estimate of the expenditure which will ultimately be necessary to cover those two items. Threehalfpence per mile on the mileage quoted amounts to £70 10s. 6d. It is also usual to debit the vehicle with interest on capital outlay and that at 4 per cent. is £12 per annum. Furthermore, the items enumerated on the schedule sent to you by the farmer, and the above three (maintenance, tyres and interest) comprise only the bare operating cost of the vehicle. Something must be debited also for incidental expenses other than these; supervision, rental and rated values of that part of the building in which the vehicle is housed, expense of obtaining licences and sundry other items of what might be termed an administrative character. A moderate estimate of the amount of these is £20. That brings the total additional amount to £112 10s. 6d. and the grand total to £364 10s. 6d., which is equivalent to 2s, 9.66(1. per ton. You will appreciate, of course, that this would be inadequate if considered as a fair rate to pay a haulier for the work, since he, of necessity, must make a profit on the work he does.—S.T.R.]
SWEATING TROUBLE IN INSULATED VANS.
[52621 We have read with interest your various items on the uses of alternative claoes of wood for bodybuilding, and have set out below a problem which is causing us some considerable worry, in the hope that the writer of your articles on this matter may be able to offer us some helpful suggestions.
We have for years, for our own use, been building insulated meat containers, originally with oak frames and cork insulation, but latterly, in the ever-pressing need for lighter and lighter bodies, in ash with aluminium-foil insulation.
We now find that this insulation appears to sweat, n41 and in doing so the moisture runs down and settles on the main bottom sides of the container. This, of course, is aggravated if the outer skin of the container, which is of matching, be damaged and let in the weather.
These main sides, together with the sideand corner uprights, where they enter the main sides, are rotting away after two or three years. The ash we use is bought ready cut to size and is believed to be English natural dried. Should such timber go like this?
The only solution we can see, if we still use ash, is to paint the main sides and uprights for a foot up with good white-lead paint and to put about 6 ins. of cork at the bottom of the insulation to soak up the moisture. We cannot creosote as the smell is detrimental to the meat.
Our present frames weigh 61 cwt. in ash ® 46 lb. per cubic ft., and if we use oak this will increase our weight by about 20 per cent.
Your comments on this problem would be much appreciated, together with any suggestions with regard to a different type of hard wood, with the strength, and resistance to moisture, of oak and the lightness of ash.
London, S.E.1. PUZZLED.
[Without mentioning your name, we have described your difficulty to makers of this class of insulation, who state that you should have no moisture trouble. They are anxious to inspect your vans if you will get in touch with them. They do not wish to express an opinion without seeing the vehicles concerned. There is no need to be in doubt as to the specification of the ash which you buy. Timbers merchants such as Gliksten and Son, Ltd., Carpenters Road, London, E.15, or Louis Bamberger and Sons, 27, Finsbury Square; London, E.C.2, will supply English seasoned ash suitable for your requirements. It is possible that the trouble is caused by detects in the joints of the rnatchhoard-ing. It is usual to line the panels on the inside with bitumastic paper, which may be obtained from Wailes Dove Bitumastic, Ltd., 6, Lloyds Avenue, London, E.C.3. As an alternative to painting the framework, you may use a pine-oil wood preservative, which may be obtained from Pinchin Johnson and Co., Ltd., 4, Carlton Gardens, London, S.W.I. We cannot suggest any alternative framing timbers except that, if the weight limit allows this, you could use oak for the bottom framework, whilst retaining ash for the side, front, back and roof framework, also you could substitute aluminium. faced plywood for rnatchboarding. Possibly other readers of this journal have had similar trouble and would be prepared to add their advice to that given by us.—En.]
A CLAIM FOR LOSS OF USE.
[52631 We have been advised by Mr. P. S. Woodhouse, the South-Eastern Area Secretary to the Associated Road Operators, to communicate with you in connection with the following matter :— We are dealing with a claim where our insured's private car was in collision with a lorry, and as a result of the accident this lorry was off the road for a matter of 13 days while it was being repaired.
The solicitors acting for the lorry owner are claiming the fantastic figure of £6 per day for loss of use. The vehicle is a Bedford 3-tonner used for long-distance haulage, and we would be obliged if you would advise us what figure you actually estimate to be loss of use, Which, of course, is really only loss of profit on a vehicle of this description. INSURER. London, S.W.1.
[Whilst I agree that, on the face of it, the claim for £.6
• a day seems somewhat high, I could not give a definitc opinion without investigating the circumstances so that I could learn of the work the vehicle is doing and the rates received. The point is that the _figure is not necessarily an impossible one.—S.T.R.]
B42 [52641 Please tell me what I must earn with my small fleet. I have three lorries on A licence and operate from East Anglia. I do on an average 1,000 miles per week with each vehicle. The bulk of my traffic is produce to all markets, that is to say, we are about 100 miles away from the market cities that we serve.
My vehicles are of the 4-ton class and I employ four drivers at £3 per week each. I also drive locally, load, unload, etc., and attend to minor repairs.
I shall pay great 'attention to your answer as I look forward to reading the article by S.T.R. each week.
One thing further, I want advice on a very important question. I need a vehicle to carry 8 tons 1,000 miles per week. Would you suggest a maximum-load fourwheeler? Also, which should it be, an oiler or petrol job, and why? G.B.
Spalding.
[You should average a minimum revenue of £40 weekly per vehicle from the 4-tonners. That will give you a reasonable minimum of profit; if you can obtain more, then you should. As regards the 8-ton vehicle, I would suggest that you purchase a maximum-load four-wheeler. If you be in a position to give proper attention to the maintenance of the oil engine and will not allow routine maintenance work to get behindhand, if you will adhere rigidly to instructions as regards changing of oil, cleaning of injectors, and so on, you will find the oil-engined vehicle much more economical.—S.T.R.]
A PRIVATE-HIRE PROBLEM.
[5265] Would you kindly let me know if the following would be in order to run as " contract " private hire?
We have been asked to run a bus from a dance just outside the town on the following terms : The organizer will book the vehicle and guarantee a minimum of lfls., but if, during the interval of dancing, he finds that he can collect more, by virtue of there being a greater number of passengers than would have resulted in producing 19s., the extra amount will be passed on to us.
Peterborough. Y.B.S.
[The position is far from straightforward. It is permissible to charge separate fares to members of a contract party, but the party must be private and the running of the vehicle must not be previously advertfsed to the public. If the dance in question be a private event, for members of the club, for instance, it would; in our view, be permissible for the organizer to announce at the event that a vehicle will be inn to take dancers home. If members of the public be admitted, however, it might be held that the announcement of the running of the vehicle constituted an advertisement to the public.—En.]
A JOURNAL WHICH COVERS THE WORLD.
[5266] Many thanks for your letter, and for the information contained therein, which has been of great help to us.
While writing to you we feel that we ought to mention that we have recently had a reply to one of our advertisements in your journal from a place so far distant as the Orkney Islands, which is proof of the extensive circulation of your publication. K. W. HAI.I,, Leicester. Commercial Sales Manager.
For Mantle and Boarland, Ltd.
,Wie are pleased to receive this commendation from Mr. Hall, and would add that, regarding the editorial contents and advertisements, not only do we receive letters from distant spots in Great Britain, but numerous others from many parts of the world, such as America, Africa, Egypt, Japan, Russia and Transjordania.—En.]