An Idle Vehicle is Better tha Losing Contract
4th February 1938
Page 26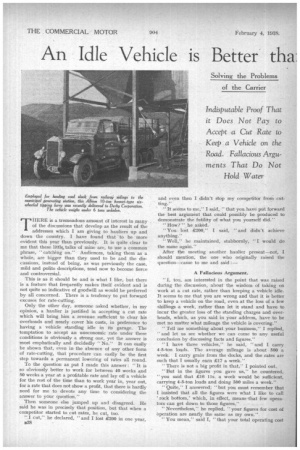 Page 27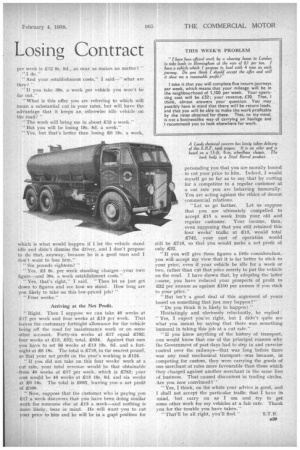 Page 26, 4th February 1938 —
An Idle Vehicle is Better tha Losing Contract
Close
THERE is a tremendous amount Of interest in many of the discussions that develop as the result of the addresses which I am giving to hauliers up and down the country. I have found that to be more evident this year than previously. It is quite clear to me that these little,, talks of mine are, to use a common phrase, " catching on." Audiences, taking them as a whole, are bigger than they used to be and the discussions, instead of being, as was previously the case, mild and polite descriptions, tend now to become fierce and controversial.
This is as it should be and is what I like, but there is a feature that frequently makes itself evident and is not quite so indicative of goodwill as would be preferred by all concerned. There is a tendency to put forward excuses for rate-cutting.
Only the other day, someone asked whether, in my opinion, a haulier is justified in accepting a cut rate which will bring him a revenue sufficient to clear his overheads and nearly cover his costs, in preference to having a vehicle standing idle in its garage. The temptation to accept an uneconomic rate under these conditions is obviously a strong one, yet the answer is most emphatically and decidedly "No." It can easily be shown that, even fir the absence of any other form of rate-cutting, that procedure can easily be the first step towards a permanent lowering of rates all round.
To the question as put I made this answer: "It is so obviously better to work for between 40 weeks and 50 weeks a year at a profitable rate and lay off a vehicle for the rest of the time than to work year in, year out, for a rate that does not show a profit, that there is hardly need for me to devote any time to considering the answer to your question."
Then someone else jumped up and disagreed. He said he was in precisely that position, but that when a competitor Started to cut rates, he cut too.
" I cut," he declared, "and I lost 2200 in one year, n38 and even then I didn't stop my competitor from cutting."
" It seems to me," I said, "that you have put forward the• best argument that could possibly be produced to demonstrate the futility of what you yourself did."
" How ? " he asked. " You lost 2200," -I said, "and didn't achieve anything."
" Well," he maintained, stubbornly, "I would do the sal-Jae again."
After the meeting another haulier present—not, I should mention, the one who originally raised the question—came to me and said
• A Fallacious Argument.
" I, too, am interested in the point that was raised during the discussion, about the wisdom of taking on work at a cut rate, rather than keeping a vehicle idle. It seems to me that you are wrong and that it is better to keep a vehicle on the road, even at the loss of a few shillings a week, rather than let it stand and have to incur the greater loss of the standing charges and overheads, which, as you said in your address, have to be met no matter what mileage the vehicle is covering."
" Tell me something about your business," I replied, "and let us see whether we can come to any useful conclusion by discussing facts and figures."
" I have three vehicles," he 'said, "and I carry 4-5-ton loads. The average mileage is about 500 a Week. I carry grain from the docks, and the rates are such that I usually earn £17 a week."
"There is not a big profit in that,-" I pointed out.
" But in the figures you gave us," he countered, "you said that £16 lie, a week would be sufficient, carrying 4-5-ton loads and doing 500 miles a week."
" Quite," I answered; "but you must remember that I insisted that all the figures were what I like to call rock bottom,' which, in effect, means-that -few operators can get down to those figures."
" Nevertheless, he replied, " your figures for cost of operation are nearly the same as my own."
"You mean," said I, "that your total operating cost
which is what would happen if I let the vehicle stand idle and didn't dismiss the driver, and I don't propose to do that, anyway, because he is a good man and I don't want to lose him."
"Six pounds eighteen? "
"Yes, £5 8s. per week standing charges--your own figure—and 30s. a week establishment costs."
" Yes, that's right," I said. "Then let us just get down to figures and see how we stand, How long are you likely to take on this low-priced job? "
"Four weeks."
Arriving at the Net Profit.
"Right. Then I suppose we can take 46 weeks at :£17 per week and four weeks at £13 per week. That leaves the customary fortnight allowance for the vehicle being off the road for maintenance work or on some other account. Forty-six weeks at £17 equal £782; four weeks at £13, £52; total, £834. Against that sum you have to set 50 weeks at £13 18s. 8d. and a fortnight at £6 18s. The total is £710, to the nearest pound, so that your net profit on the year's working is £124.
" If you did not take on this four weeks' work at a cut rate, your total revenue would be that obtainable from 46 weeks at £17 per week. which ,is £782; your cost would be 46 weeks at £13 18s. 8d. and six weeks at £6 18s. The total is 2682, leaving you a net profit of £100.
"Now, suppose that the customer who is paying you £17 a week discovers that you have been doing similar work for someone else at £13 a week—and nothing is more likely, bear in mind. He will *ant you to cut your price to him and he will be in a god position for
A Leeds chemical concern has lately taken delivery of this E.R.F. tank wagon. It is an oiler and is based on a 13-ft. 8-in. wheelbase chassis. The tank body is a Steel Barrel product.
persuading you that you are morally bound to cut your Price to him. Indeed, I would myself go so far as to say that by carting for a competitor to a regular customer. at a cut rate you are behaving immorally. You are acting against the ethics of decent commercial relations.
"Let us go farther. Let us suppose that you are ultimately compelled to accept £15 a week from your old and regular customer. Your income, then, even supposing that you still retained this four weeks' traffic at £13, would total £742, your cost of Operation would still be £710, so that you would make a net profit of only £32, " If you will give these figures a little consideration, you will accept my view that it is far better to stick to your price, even if your vehicle be idle for a week or two, rather than cut that price merely to Put the vehicle on the road. I have shown that, by adopting the latter course, you have reduced your prospects of profit to £32 per annum as against £100 per annum if you stick to your price."
" But isn't a good deal of this argument of yours based on something that just may happen?"
"Do you think it is likely to happen?"
Hesitatingly and obviously reluctantly, he replied : "Yes, I expect you're right, but I didn't quite see what you meant by saying that there was something immoral in taking this job at a cut rate."
"If you knew anything of the history of transport, you would know that one of the principal reasons why the Government of past days had to step in and exercise control over the railways—that was long before there was any road mechanical transport—was because, in competing for custom, they were carrying the goods of one merchant at rates more favourable than those which they charged against another merchant in the same line of business. That caused discontent in trading circles. Are you now convinced?'
"Yes, I think, on the whole your advice is good, and I shall not accept the particular traffic that I have in mind, but carry on as I am and try to get some other work for my vehicles at a fair rate. Thank you for the trouble you have taken."
"That'll be all right, you'll find." S.T.R.