Putting it to the Vote
4th February 1938
Page 2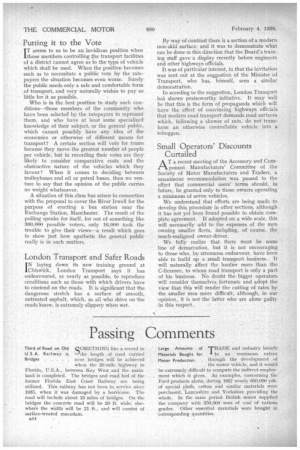 Page 2, 4th February 1938 —
Putting it to the Vote
Close
I T seems to us to be an invidious position when those members controlling the transport facilities of a district cannot agree as to the type of vehicle which shall be used. When the position becomes such as to necessitate• a public vote by the ratepayers the situation becomes even worse. Surely the public needs only a safe and comfortable form of transport, and very naturally wishes to pay as little for it as possible.
Who is in the best position to study such conditions—those members of the community, who have been selected by the ratepayers to represent them, and who have at least some specialized knowledge of their subject, or the general public, which cannot possibly have any idea of tile economics or otherwise of different means for transport? A certain section will vote for trams because they move the greatest number of people per vehicle, but in recording their votes are they likely to consider comparative costs and the obstructive nature of the vehicles which they favour? When it comes to deciding between trolleybuses and oil or petrol buses, then we venture to say that the opinion of the public carries no weight whatsoever.
A situation of this class has arisen in connection with the proposal to cover the River lrwell for the purpose of erecting a bus station near the Exchange Station, Manchester. The result of the polling speaks for itself, for out of something like 360,000 possible voters, only 16,000 took the trouble to give their views--a result which goes to show just how apathetic the general public really is in such matters.
London Transport and Safer Roads
1N laying down its new training ground at Chiswick, London Transport says it has endeavoured, as nearly as possible, to reproduce conditions such as those with which drivers have to contend on the roads. It is significant that the dangerous stretch has a surface of smooth, untreated asphalt, which, as all who drive on the roads know, is extremely slippery when wet. By way of contrast there is a section of a modern non-skid surface, and it was to demonstrate what can be done in this direction that the Board's training staff gave a display recently before engineers and other highways officials.
It was of particular interest, in that the invitation was sent out at the suggestion of the Minister of Transport, who has, himself, seen a similar demonstration.
In acceding to the suggestion, London Transport has shown praiseworthy initiative. It may well be that this is the form of propaganda which will have the effect of convincing highways officials that modern road transport demands road surfaces which, following a shower of rain, do not transform an otherwise controllable vehicle into a toboggan.
Small Operators' Discounts Curtailed
AT a recent meeting of the Accessory and Component Manufacturers' Committee of theSociety of Motor Manufacturers and Traders, a unanimouS recommendation was passed to the effect that commercial users' terms should, in future, be granted only to those owners operating a minimum of seten vehicles.
We understand that efforts are being made to develop this procedure in other sections, although it has not yet been found possible to obtain complete agreement. If adopted on a wide scale, this will necessarily add to the expenses of the men owning smaller fleets, including, of course, the much-maligned owner-driver.
We fully realize that there must be some line of demarcation, but it is not encouraging to those who, by strenuous endeavour, have been able to build up a small transport business. It will naturally affect the haulier more than the C-licensee, to whom road transport is only a part of his business. No doubt the bigger operators will consider themselves fortunate and adopt the view that this will render the cutting of rates by the smaller men more difficult, although, in our opinion, it is not the latter who are alone guilty in this respect.