Stabilizing the Fuel Supply
4th February 1938
Page 19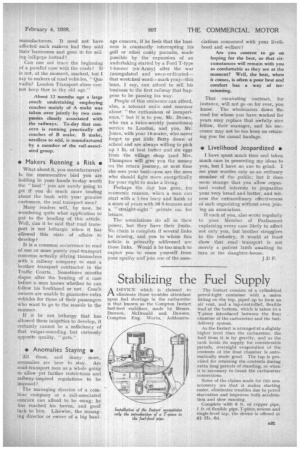 Page 19, 4th February 1938 —
Stabilizing the Fuel Supply
Close
ADEVICE which is claimed to eliminate those troubles attendant upon fuel shortage in the carburetter is that known as the Compton Instart fuel-feed • stabilizer, made by Messrs. Dawson, McDonald and Dawson, Compton Eng. Works, Ashbourne.
The Instart consists of a cylindrical petrol-tight container with a union fitting on the top, piped up to form an air vent, and a tap-controlled, flexible lead at the bottom, which is taken to a T-piece introduced between the float chamber of the carburetter and the fueldelivery system.
As the Instart is arranged at a slightly higher level than the carburetter, the feed from it is by gravity, and as the tank holds its supply for considerable periods, overnight evaporation of the contents of the float chamber is automatically made good. The tap is provided for retaining the contents during extra long periods of standing, or when it is necessary to break the carburetter connections.
Some of the claims made for this new accessory are that it makes starting easier, eliminates troubles due to petrol starvation and improves both acceleration arid slow running.
Complete with 6 ft. of copper pipe, 1 ft. of flexible pipe, T-piece, unions and single-level tap, the device is offered at £1 17s. Ott