Take Up Your Cudgel!
4th February 1938
Page 1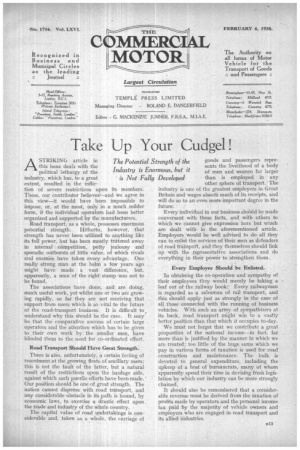 Page 1, 4th February 1938 —
Take Up Your Cudgel!
Close
ASTRIKING article in this issue deals with the political lethargy of the industry, which has, to a great extent, resulted in the inflic tion of severe restrictions upon its members.
These, our contributor believes and we agree in this view—it would have been impossible to impose, or, at the most, only in a much milder form, if the individual operators had been better organized and supported by the manufacturers.
Road transport, as a whole, possesses enormous potential strength. Hitherto, however, that strength has never been utilized to anything like its full power, but has been mostly frittered away in internal competition, petty jealousy and sporadic outbursts of little value, of which rivals and enemies have taken every advantage. One really strong man at the helm a few years ago might have made a vast "difference,. but, apparently, a man of the right stamp was not to be found.
The associations have done, and are doing, much useful work, yet whilst one or two are growing rapidly, so far they are not receiving that support from users which is so vital to the future of the road-transport business. It is difficult to understand why tins should be the case. It may be that the comparative success of certain large operators and the attention which has to be given to their own work by the smaller men, have blinded them to the need for co-ordinated effort, Road Transport Should Have Great Strength.
There is also, unfortunately, a certain feeling of resentment at the growing fleets of ancillary users; this is not the fault of the latter, but a natural result of the restrictions upon the haulage side, against ,Nhich such puerile efforts have been made. Our position should be one of great strength. The nation cannot dispense with road transport, and any considerable obstacle in its path is bound, by economic laws, to exercise a drastic effect upon , the trade and industry of the whole country. The capital value of road undertakings is considerable and, taken as a whole, the carriage of goods and passengers represents the livelihood of a body of men and women far larger than is employed in any other sphere of transport. The industry is one of the greatest employers in Great Britain and wages absorb much of its receipts, and will do So to an even more important degree in the future. .
Every individual in our business should be made conversant with these facts, and with others to which we cannot give expression here but which are dealt with in the aforementioned article. Employers .would be well advised to do all they can to enlist the services of their men as defenders of road transport, and they themselves should link up with the representative associations and do everything in their power to strengthen them.
Every Employee Should be Enlisted.
In obtaining the co-operation and sympathy of their employees they would merely be taking a leaf out of the railway book-: Every railwayman is regarded as a salesman of rail transport, and this should apply just as strongly in the case of all those connected with the running of business vehicles. With such an army of sympathizers at its back, road transport might win to a vastly better position than that which it occupies to-day.
We must not forget that we contribute a great proportion of the national income—in fact, far more than is justified by. the manner in which we are treated; too little of the huge sums which we pay in various forms of taxation is used for road construction and maintenance. The bulk is devoted to general expenditure, including the upkeep of a host of bureaucrats, many of whom apparently spend their time in devising fresh legislation by which our industry can be more strongly chained.
It should also be remembered that a considerable revenue must be derived from the taxation of profits made by operators and the personal income tax paid by the majority of vehicle owners and employers who are engaged in road transport and its allied industries.