A SHAPELY 20-SEATER SERVICE BUS.
4th February 1930
Page 71
Page 72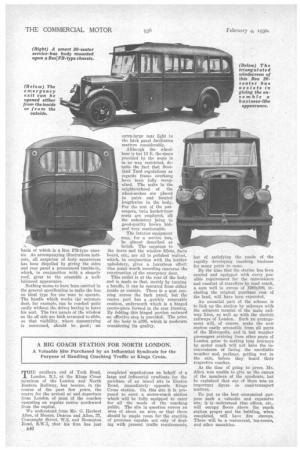 Page 71, 4th February 1930 —
A SHAPELY 20-SEATER SERVICE BUS.
Close
A Bus Body Built by a Coventry Concern, Which Has Lately Commenced the Construction of Commercial Bodywork.
A NIONE who is at all observant .ti.cannot help but notice the general improvement, during recent months, in the appmrance of the smaller type of service bus. Vehicles that used to be nothing more or less than boxes, with the corners rounded off, have now been displaced 'by Saloons having really shapely Raz.% whilst finish and style have been improved almost out of recognition. Recently, Cross and Ellis, Ltd., a concern of motor carriage builders, of Coventry, has spread its activities from the private-ear field to that of commercial vehicles, and, as a start, has produced a fine 20-seater service bus, the basis of which is a Reo FB-type enassis. As accompanying illustrations indicate, all suspicion of body squareness has been dispelled by giving the sides and rear panel a pronounced tumble-in, which, in conjunction with a shapely roof, gives to the ensemble a wellbalanced appearance.
Nothing seems to have been omitted in the general specification to make the bus an ideal type for one man to operate. The handle which works the entrance door, for example, can be reached quite easily without the driver having to leave his seat. The two panels of the window on the off side are both arranged to slide, so that visibility, where marmeuvring is concerned, should be good; an extra-large rear light in the back panel facilitates matters considerably.
Although the wheelbase is but 13 ft. the space provided by the seats is in no way restricted, de-spite the fact that Scotland Yard regulations as regards frame overhang have been fully recognized. The seits in the neighbourhood of the wheel-arches are placed in pairs and located lengthwise in the body. For the rest of the pas. sengers, twin bucket-type seats are employed, all the upholstery 'being in goad-quality brown hide and very comfortable.
The interior equipment may, for a service bus, be almost described as lavish. The mappings to the doors and the window fillets, facia board, etc., are all in polished walnut, which, in conjunction with the leather upholstery, gives a luxurious effect. One point worth recording concerns the construction of the emergency door.
This outlet is at the rear of the body and is made so that, merely by turning a handle, it can be operated from either inside or outside. There is a seat running across the back panel, but the centre part has a ;quickly removable cushion, underneath which is a hinged centre-piece formed in the seat framing. By folding this hinged portion outward an effective step is provided. The price of the body is £395, which is moderate considering its quality.