A BIG COACH STATION FOR NORTH LONDON.
4th February 1930
Page 72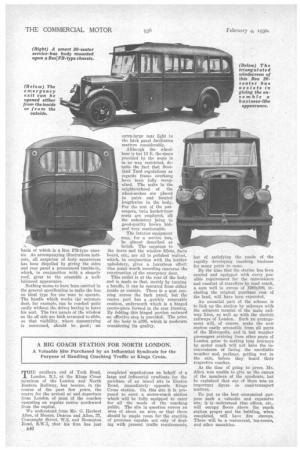 Page 72, 4th February 1930 —
A BIG COACH STATION FOR NORTH LONDON.
Close
A Valuable Site Purchased by an Influential Syndicate for the Purpose of Handling Coaching Traffic at Kings Cross, THE southern end of York Road, London, NJ, at the Kings Cross terminus of the London and North Eastern Railway, has become, in the course of the past few years, the Centre for the arrival at and departure from London of most of the coaches operating on regular routes northward from the capital.
We understand from Mr. G. Herbert Allen, of Messrs. Deacon and Allen, 27, Connaught Street, W2, and Brampton Road, SAVA that his firm has just B46
completed negotiations on behalf of a large and influential syndicate for the purchase of an island site in Euston Road, immediately, opposite Kings Cross station. On this site it is proposed to erect a motor-coach station which will be fully equipped to eater for all the needs of the coaching public. The site in question covers an area of about an acre, so that there should be ample room for the erection of premises capable not only of dealing with present traffic reouiremeuts,
but of satisfying the needs of the rapidly developing coaching business for many years to come.
By the time that the station has been erected and equipped with every possible requirement for the convenience and comfort of travellers by road coach, a zum well in excess of £200,000, including the original purchase cost of the land, will have been expended, An essential part of the scheme is to link up the station by subways with the adjacent termini of the main railway lines, as well as with the electric railways of London. Such an arrangement will, of course, make the new station easily accessible from all parts of the Metropolis, and in bad weather passengers arriving from other parts of London prior to making long journeys by motor coach will not have the inconvenience of facing the unreliable weather and, perhaps, getting wet in the rain, before they board their respective coaches.
At the time of going to press, Mr. Allen was unable to give us the names of the members of the syndicate, but he explained that one of them was an important figure in road-transport matters.
To put to the best economical purpose such a valuable and expensive site, it is understood that offices, etc., will occupy floors above the coach station proper and the building, when completed, will have five storeys. There will be a restaurant, tea-rooms, and other amenities.