Phases of
4th February 1930
Page 70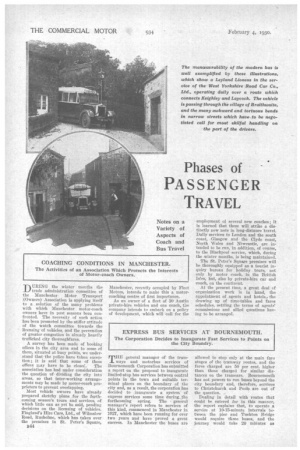 Page 70, 4th February 1930 —
Phases of
Close
PASSENGER TRAVEL
COACHING CONDITIONS IN MANCHESTER,
The Activities of an Association Which Protects the Interests of Motor-coach Owners.
DTIRING the winter months the trade administration committee of the Manchester Motor Transport .(Owners) Association is applying itself to a solution of the many problems with which Manchester motor-coach owners have in past seasons been confronted. The necessity of such action has been promoted by the stiffer attitude of the watch committee towards the licensing of vehicles, and the prevention of greater congestion in already heavily trafficked city thoroughfares.
A survey has been made of booking offices in the city area and to some of them, situated at busy points, we understand that the police have taken exception; it is said that some of these offices may have to be closer:. The association has had under consideration the question of dividing the city into areas, so that inter-working arrangements may be made by motor-coach proprietors to prevent overlapping.
Most vehicle owners have already prepared sketchy plans for the forthcoming season's tours and services, of which little can as yet be said, pending decisions on the licensing of vehicles. Fingland's Hire Cars, Ltd., of Wilmslow Road, Rusholme, which has taken over the premises in St. Peter's Square,
B44
Manchester, recently occupied by Fleet Motors, intends to make this a motorcoaching centre of first importance.
As an owner of a fleet of 30 Austin private-hire vehicles and one coach, the company intends to embark on a policy of development, which will call for the employment of several new coaches ; it is learned that these will strike a distinctly new note in long-distance "travel. Daily services to London and the south coast, Glasgow and the Clyde coast, North Wales and Newcastle, are intended to be run, in addition, of course, to the Blackpool service, which, during the winter months, is being maintained.
The St. Peter's Square premises will be thoroughly equipped as a tourist inquiry bureau for • holiday tours, not only by motor coach, in the British Isles, but, also by private-hire car and coach, on the continent.
At the present time, a great deal of organization work is in hand, the appointment of agents aud hotels,, the drawing up of time-tables and fares schedules, settling the terms of agents' commissions and allied questions having to be arranged.