EXPRESS BUS SERVICES AT BOURNEMOUTH.
4th February 1930
Page 70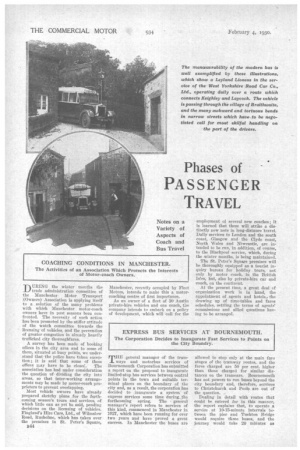 Page 71
Page 70, 4th February 1930 —
EXPRESS BUS SERVICES AT BOURNEMOUTH.
Close
The Corporation Decides to Inaugurate Fast Services to Points on the City Boundry.
THE general manager of the tramways and motorbus services of Bournemouth Corporation has submitted a report on the proposal to inaugurate limited-stop bus services between central points in the town and suitable terminal places on the boundary of the city and, as a result, the corporation has decided to -inaugurate a system of express services some time during the
forthcoming spring. The • general manager's report refers to services of this kind, commenced in Manchester in 1927, which have been running for over two years and have proved a great success. In Manchester the buses are allowed to stop only at the main far') stages of the tramway routes, and the fares charged are 50 per cent, higher than those charged for similar distances on the tramcars. Bournemouth has not powers to run buses beyond the city boundary and, therefore, services to Christchurch and Poole are out of the question.
Dealing in detail with routes that could be catered for in this manner, the report explains that, to operate a service at 10-15-minute intervals between the pier and Tuckton Bridge would require three buses, and the journey would take 20 minutes as against 40 minutes by tramcar. With two buses, the service from the pier to County Gates could be maintained with a similar interval between departures. In this case the saving of time would he only four minutes, the express bus taking 10 minutes to complete the journey. The route from Moordown by Wimbourne Road will also require two buses. A service between Ashley Road :(at its junction with Christchurch Road, Boscombe) and The Square, in Bournemouth, could be run by two buses, giving a frequency of about 10 minutes, and would take 12 minutes as against 29 minutes by tram. The only other service suggested is one from King's Road, along Charminster Road, to Cemetery Junction, and thence along Lansdowne Road to Lansdowne terminus. The time required for this route would be 8-10 minutes, as against 15-20 minutes by train, changing at the cemetery. One bus could'maintain a 35-minute service. The report recommends fares 50 per cent. higher than those charged on the trams, with a minimum fare of 14(1.