A Citroen with
4th February 1930
Page 67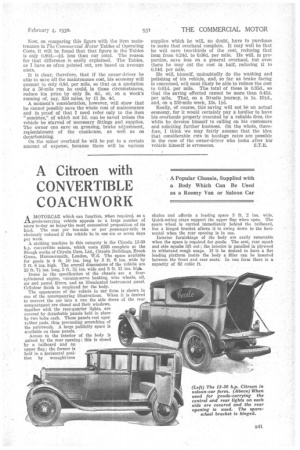 Page 67, 4th February 1930 —
A Citroen with
Close
CONVERTIBLE COACHWORK
AMOTORCAR which can function, when required, as a goods-carrying vehicle appeals to a large number of users to-day as being' the most economical proposition of its kind. The cost per ton-mile or per passenger-mile is obviously reduced if the vehicle be in use six or seven days per week. A striking machine in this category is the Citroen 13-30 h.p. convertible saloon, which costs £295 complete at the Slough works of Citroen Cars, Ltd., Citroen Buildings, Brook Green, Hammersmith, London, W.G. The space available for goods is 4 ft. 10 ins, long by 3 ft. 6 ins, wide by 3 ft. 8 ins. high. The overall dimensions of the vehicle are 13 ft. 7/ ins. long, 5 ft. 3/ ins, wide and 5 ft. 11 ins. high.
Items in the specification of the chassis are a fourcyliniered engine, vacuum-servo braking, wire wheels, oil, air and petrol filters, and an illuminated instrument panel. Cellulose finish is employed for the body.
The appearance of the vehicle in car form is shown in one of the accompanying illustrations. When it is desired to convert the car into a van the side doors of the rear compartment are closed and their windows, together with the rear-quarter lights, are covered by detachable panels held in place• by two bolts each. These panels rest upor rubber pads, thus preventing scratching of the paintwork. A large publicity space is available on these panels.
Access to the interior of the body is gained by the rear opening ; this is closed by a tailboard and an upper flap ; the former is held in a horizontal position by wrought-iron
chains and affords a loading space 3 ft. 2 ins. wide. Quick-acting stays support the upper flap when open. The spare wheel is carried immediately behind the tailboard, but a hinged bracket allows it to swing down to the horizontal when the rear opening is in use.
Interior furnishings of the body are easily removable when the space is required for goods. The seat, rear squab and side squabs lift out ; the interior is panelled in plywood to withstand rough usage. If it be desired to have a flat loading platform inside the body a filler can be inserted between the front and rear seats. In van form there is a capacity of 62 cubic ft.