IRISH FREE STATE TRACTOR ACTIVITIES
4th February 1930
Page 57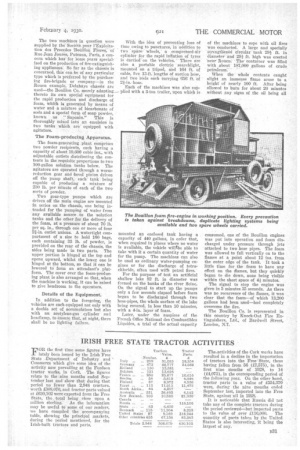 Page 57, 4th February 1930 —
IRISH FREE STATE TRACTOR ACTIVITIES
Close
FOR the first time some figures have lately been issued by the Irish Free State -Department of Industry and Commerce which give some idea of the activity now prevailing at the Forclson tractor works, in Cork. The figures relate to the ,nine months ended September last and show that during that period no fewer than 2,948 tractors, worth £308,070, and tractor parts valued at 1630,102 were exported from the Free State, the :total being close upon a million sterling.. As the information may be useful to some of our readers, we have compiled the accompanying table, showing the principal markets, during the period mentioned, for the Irish-built tractors and parts.
The.activitiea of the Cork works have resulted in a decline in the importation of tractors into the Free State, these having fallen from 56 (£7,575), in the first nine months of 1928, to 14 (£4,073), in the corresponding period of the following year. On the other hand, tractor parts to a value of £554,370 were, during the nine months ended September last, imported into the Free State, against nil in 1928.
It is noticeable that Russia did not take any of the complete tractors during the period reviewed-but imported parts to the value of over £116,000. The quantity of parts taken by the United States is also interesting, it being the largest of any.