Glasgow and the Road Traffic Bill
4th February 1930
Page 52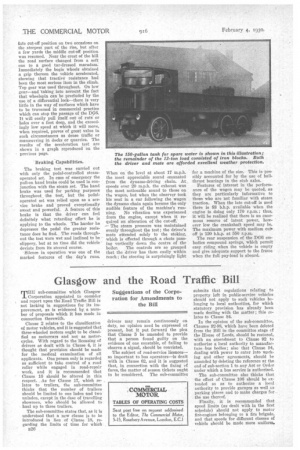 Page 52, 4th February 1930 —
Glasgow and the Road Traffic Bill
Close
Suggestions of the Corporation for Amendments to the Bill TBE sub-committee which Glasgow Corporation appointed to consider and report upon the Road Traffic Bill is not lacking in suggestions for its improvement, as is evidenced by, a number of proposals which it has made in connection therewith.
Clause 2 relates to the classification of motor vehicles, and it is suggested that three-wheeled motors ought to be classified as motorcars and not as motorcycles. With regard to the licensing of drivers as dealt with in Clause 4, it is thought that provision should be made for the medical examination of all applicants. One person only is regarded as sufficient to take control of a road roller while engaged in road-repair work, and it is recommended that Clause 16 should be altered in this respect. As for Clause 17, which relates to trailers, the sub-committee thinks that the number of trailers should be limited to one laden and two unladen, except in the 6ase of travelling shownien, who should be allowed to haul up to three trailers.
The sub-committee states that, as it is understood that a new clause is to be introduced in lieu of Clause 18., re-. garding the limits of time for which B26 drivers may remain continuously on duty, no opinion need be expressed at present, but it put forward the plea that Clause 5 be amended to provide that a person found guilty on the evidence of one constable, of failing to observe a signal, should be convicted.
The subject of road-service licences— so important to bus operators—is dealt with in Clause 62, and it is suggested that, in connection with the fixing fares, the matter of season tickets ought to be considered. The sub-committee submits that regulations relating to property left in public-service vehicles should not apply to such vehicles belonging to local authorities, for which statutory provision has already been made dealing with the matter; this relates to Clause 84.
In the opinion of the sub-committee, Clauses 92-98, which have been deleted from the Bill in the committee stage el the House of Lords, should be restored, with an amendment to Clause 92 to authorize a local authority to manufacture bus bodies ; also that Clause 94, dealing with power to enter into worklug and other agreements, should be amended by deleting the reference at the end of sub-section 1 to any Act or Order under which a bus service is authorized.
The sub-committee also thinks that the effect of Clause 106 should be extended so as to authorize a local authority to provide garages as well fls parking places and to make charges for the use thereof.
Finally, it is recommended that speed limits (as dealt with in the first schedule) should not apply to motor fire-engines belonging to a fire brigade, and that speeds for different classes of vehicle should be made more uniform.