Reducing the Multiplicity of Models.
4th February 1930
Page 44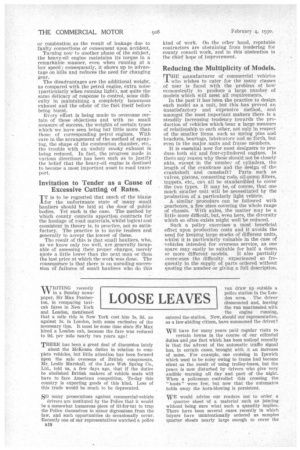 Page 44, 4th February 1930 —
Reducing the Multiplicity of Models.
Close
THE manufacturer of commercial • vehicles who wishes to cater for the many classes of user is faced with the problem of how economically to produce a large number of models which will meet all requirements.
In the past it has been the practice to design each model as a Unit, but this has proved an unsatisfactory and expensive method, and amongst the most important makers there is a steadily increasing tendency towards the production of vehicles which bear a large measure of relationship to each other, not only in respect of the smaller items. such as spring pins and brackets, bearings, lubricators and so forth, but even in the major units and frame members.
It is essential now for most designers to produce both six and four-cylindered engines. Is there any reason why these should not be closely akin, except in the number of cylinders, the length of the crankcase and the design of the crankshaft and camshaft? Parts such as valves; pistons, connecting rods, oil-pump filters, tappets, etc., can all be standardized to cover the two types. It may be, of course, that one much smaller unit will be necessitated by the production of a particularly light vehicle.
A similar procedure can be followed with gearboxes, a few sizes covering the whole range of chassis. With axles, the matter may be a little more difficult, but, even here, the diversity which so often exists might well 'be reduced.
Such a policy exercises a most beneficial effect upon production costs and it avoids the need for keeping large stocks of different units, whilst it is particularly valuable in the case of vehicles intended for overseas service, as one spare may easily be suitable for half a dozen or more different models. It also partially overennes the difficulty experienced so frequently. In the supply of parts ordered without quoting the number or giving a full description.