LOOSE LEAVES
4th February 1930
Page 44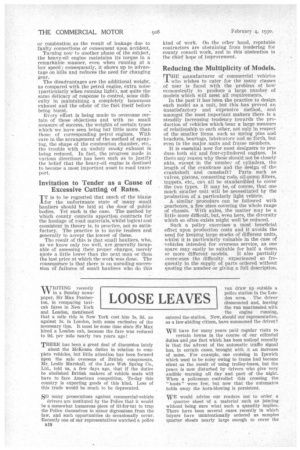 Page 45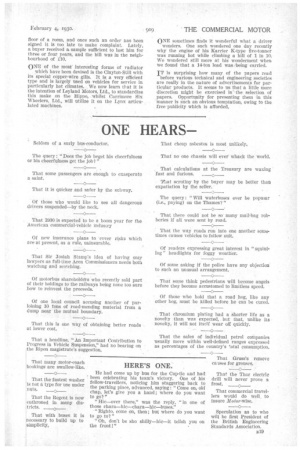 Page 44, 4th February 1930 —
LOOSE LEAVES
Close
NiTRITING recently in a Sunday news-• paper, Sir Max Pemberton, in comparing taxicab fires in New York
and London, mentioned that a mile ride in New York cost him la. 3d. as against is. in London, both sums exclusive of the necessary tips. It must be some time since Sir Max hired a London cab, because the fare was reduced to 9d. per mile nearly two years ago!
THERE has been a great deal of discussion lately
about the McKenna duties in relation to complete vehicles, but little attention has been focused upon " the sale overseas of British components. Mr. Leslie Marshall, of the Lace Web Spring Co., Ltd., told us, a few days ago, that if the duties be abolished British makers of vehicle seats will have to face American competition. To-day this country is exporting goods of this kind. Loss of this trade would be much to be deprecated.
SO many prosecutions against commercial-vehicle drivers are instituted by the Police that it would be a somewhat humorous piece of tit-for-tat to trap the Police themselves in minor digressions from the law, and such opportunities do occasionally occur. Recently one of our representatives watched a police n1S
van draw up outside a police station in the London area. The driver dismounted and, leaving the van unattended with the engine running, entered the station. Now, should our representative, as a law-abiding citizen, have summoned the driver?
WE have for many years paid regular visits to certain towns in the course of our editorial duties and one fact which has been noticed recently is that the advent of the automatic traffic signal has, in certain cases, brought with it an increase of noise. For example, one crossing in Ipswich which used to be noisy owing to trams had become silent as the result of using trolley-buses, but the peace is now disturbed by drivers who give very audible warning all day and part of the night. When a policeman controlled this crossing the "hoots" were few, but now that the automaton holds sway the horn-blowing is persistent.
INTE would advise our readers not to order a quarter sheet of a material such as jointing without being sure what such a quantity implies. There have been several cases recently in which buyers have unintentionally ordered as samples quarter sheets nearly large enough to cover the floor of a room, and once such an order nas been signed it is too late to make complaint. Lately, a buyer received a sample sufficient to last him for three or four years, and the bill was in the neighbourhood of £10.
ONE of the most interesting forms of radiator which have been devised is the Clayton-Still with its special copper-wire gills. It is a very efficient type and is largely used on vehicles for service in particularly hot climates. We now learn that it is the intention of Leyland Motors, Ltd.' to standardize this make on the Hippo, whilst Carrimore Six Wheelers, Ltd., will utilize it on the Lynx articulated machines. ONE sometimes finds it wonderful what a driver wonders. One such wondered one day recently why the engine of his Karrier K-type five-tonner was running hot while climbing a hill of 1 in 10; We wondered still more at his wonderment when we found that a 14-ton load was /being carried.
IT is surprising how many of the papers read before various technical and engineering societies are really in the nature of advertisements for particular products. It seems to us that a little more discretion might be exercised in the: selection of papers. Opportunity for presenting them in this manner is such an obvious temptation, owing to the free publicity which is afforded.