RR lashes council
4th December 1982
Page 9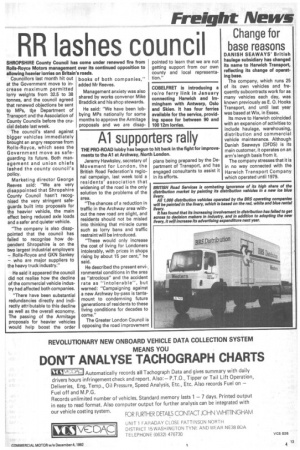 Page 9, 4th December 1982 —
RR lashes council
Close
SHROPSHIRE County Council has come under renewed fire from Rolls-Royce Motors management over its continued opposition to allowing heavier lorries on Britain's roads.
Councillors last month hit out books of both companies," at the Government move to inadded Mr Reeves.
crease maximum permitted lorry weights from 32.5 to 38 tonnes, and the council agreed that renewed objections be sent to MPs, ale Department of Transport and the Association of County Councils before the crucial debate last week.
The council's stand against bigger vehicles immediately brought an angry response from Rolls-Royce, which sees the Government move as safeguarding its future. Both management and union chiefs lashed the county council's policy.
Marketing director George Reeves said: "We are very disappointed that Shropshire County Council hasn't recognised the very stringent safeguards built into proposals for the heavier vehicle, the main effect being reduced axle loads and a safer and quieter vehicle.
"The company is also disappointed that the council has failed to recognise how dependent Shropshire is on the two largest industrial employers — Rolls-Royce and GKN Sankey — who are major suppliers to the heavy truck industry."
He said it appeared the council did not realise how the decline of the commercial vehicle industry had affected both companies.
"There have been substantial redundancies directly and indirectly attributable to this decline as well as the overall economy. The passing of the Armitage proposals for heavier vehicles would help boost the order Management anxiety was also shared by works convenor Mike Braddick and his shop stewards.
He said: "We have been lobbying MPs nationally for some months to approve the Armitage proposals and we are disap pointed to learn that we are not getting support from our own county and local representation."