Bridges will still be OK
4th December 1982
Page 8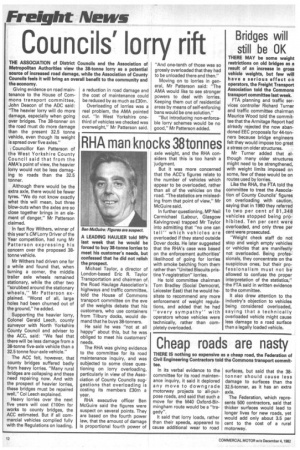 Page 8, 4th December 1982 —
Bridges will still be OK
Close
THERE MAY be some weight restrictions on old bridges as a result of an increase in gross vehicle weights, but few will have a serious effect on operators, the Freight Transport Association told the Commons transport committee last week.
FTA planning and traffic services controller Richard Turner and traffic committee chairman Maurice Wood told the committee that the Armitage Report had already rejected the now abandoned EEC proposals for 44-tonners because bridge engineers felt they would impose too great a stress on older structures.
Mr Turner added that although many older structures might need to be strengthened, with weight limits imposed on some, few of these would be on routes used by lorries.
Like the RHA, the FTA told the committee to treat the Association of County Councils' figures on overloading with caution, saying that in 1980 they referred to two per cent of 81,348 vehicles stopped being prohibited. Ten per cent were overloaded, and only three per cent were prosecuted.
"Weight check staff do not stop and weigh empty vehicles or vehicles that are manifestly not overloaded. Being professionals, they concentrate on the suspicious ones, but their professionalism must not be allowed to confuse the proper interpretation of the statistics," the FTA said in written evidence to the committee.
It also drew attention to the industry's objection to vehicles being considered overloaded, saying that a technically overloaded vehicle might cause less damage to a road surface than a legally loaded vehicle,