Euro piracy
4th December 1982
Page 5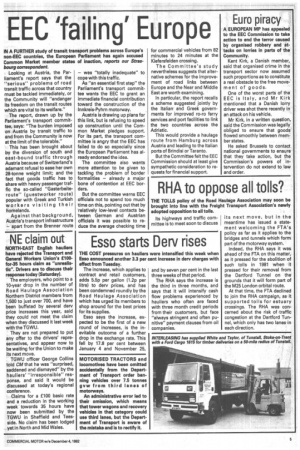 Page 5, 4th December 1982 —
Euro piracy
Close
Keywords :
European Union Law
,
Economy Of The European Union
,
Internal Market
,
European Economic Community
,
European Union
,
Kirk
,
Europe
,
Political Philosophy
,
Modern History
,
Politics
,
Law / Crime
A EUROPEAN MP has appealed to the EEC Commission to take action to end the terror caused by organised robbery and attacks on lorries in parts of the Community.
Kent Kirk, a Danish member, said that organised crime in the transport sector now assumed such proportions as to constitute a real obstacle to the free movement of goods.
One of the worst parts of the EEC is Italy, and Mr Kirk mentioned that a Danish lorry driver was shot there recently in an attack on his vehicle.
Mr Kirk, in a written question, said the Commission was legally obliged to ensure that goods flowed smoothly between member states.
He asked Brussels to contact national governments to ensure that they take action, but the Commission's powers of intervention do not extend to law and order.