EEC 'failing' Europe
4th December 1982
Page 5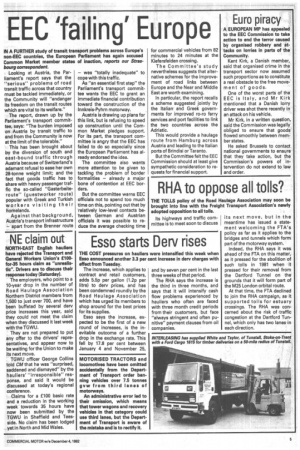 Page 5, 4th December 1982 —
EEC 'failing' Europe
Close
IN A FURTHER study of transit tran non-EEC countries, the European Common Market member states bourg correspondent.
Looking at Austria, the Parliament's report says that the "serious" problems of road transit traffic across that country must be tackled immediately, or the Community will "endanger its freedom on the transit routes which are vital to its welfare."
The report, drawn up by the Parliament's transport committee, says: "The burden imposed on Austria by transit traffic to and from the Community is now at the limit of the tolerable."
This has been brought about by the diversion of south and east-bound traffic through Austria because of Switzerland's adamant refusal to ease her own 28-tonne weight limit; and the fact that goods traffic has to share with heavy passenger traffic the so-called "Gasterbeiteroute" (guestworker route) popular with Greek and Turkish workers visiting their homelands.
Against that background, Austria's transport infrastructure — apart from the Brenner route — was "totally inadequate" to cope with this traffic.
As "an essential first step" the Parliament's transport committee wants the EEC to grant an immediate financial contribution toward the construction of the Innkreis-Pyhrn motorway.
Austria is drawing up plans for this link, but is refusing to speed up construction until the Common Market pledges support. For its part, the transport committee is angry that the EEC has failed to do so especially since the European Parliament has already endorsed the idea.
The committee also wants more attention to be given to tackling the problem of border formalities — already a major bone of contention at EEC borders.
But the committee warns EEC officials not to spend too much time on this, pointing out that by relatively low-level contacts between German and Austrian officials it was possible to reduce the average checking time for commercial vehicles from 82 minutes to 24 minutes at the Kiefersfelden crossing.
The Committee's study nevertheless suggests that alternative schemes for the improvement of road links between Europe and the Near and Middle East are worth examining.
In particular, the report recalls a scheme suggested jointly by the Italian and Greek governments for improved ro-ro ferry services and port facilities to link the two countries across the Adriatic.
This would provide a haulage route from Hamburg across Austria and leading to the Italian ports of Brindisi or Taranto.
But the Committee felt the EEC Commission should at least give sympathetic consideration to requests for financial support.