Keeping in check the illegal runners
4th December 1982
Page 40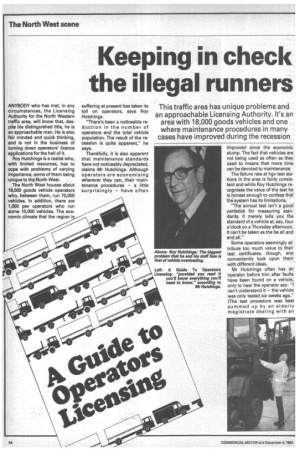 Page 41
Page 42
Page 43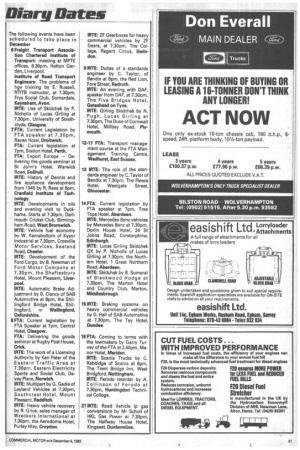 Page 40, 4th December 1982 —
Keeping in check the illegal runners
Close
This traffic area has unique problems and an approachable Licensing Authority. It's an area with 18,000 goods vehicles and one where maintenance procedures in many cases have improved during the recession
ANYBODY who has met, in any circumstances, the Licensing Authority for the North Western traffic area, will know that, despite his distinguished title, he is an approachable man. He is also fair minded and quick thinking, and is not in the business of turning down operators' licence applications for the hell of it.
Roy Hutchings is a realist who, with limited resources, has to cope with problems of varying importance, some of them being unique to the North West.
The North West houses about 18,000 goods vehicle operators who, between them, run 70,000 vehicles. In addition, there are 1,000 psv operators who run some 10,000 vehicles. The economic climate that the region is suffering at present has taken its toll on operators, says Roy Hutchings.
"There's been a noticeable reduction in the number of operators and the total vehicle population. The result of the recession is quite apparent," he says.
Thankfully, it is also apparent that maintenance standards have not noticeably depreciated, claims Mr Hutchings. Although operators are economising wherever they can, their maintenance procedures — a little surprisingly — have often improved since the economic slump. The fact that vehicles are not being used as often as they used to means that more time can be devoted to maintenance.
The failure rate at hgv test stations in the area is fairly consistent and while Roy Hutchings recognises the value of the test he is honest enough to confess that the system has its limitations.
"The annual test isn't a good yardstick for measuring standards. It merely tells you the standard of a vehicle at, say, four o'clock on a Thursday afternoon. It can't be taken as the be all and end all."
Some operators seemingly attribute too much value to their test certificates, though, and conveniently look upon them with different ideas.
Mr Hutchings often has an operator before him after faults have been found on a vehicle, only to hear the operator say: "I can't understand it — the vehicle was only tested six weeks ago." (The test procedure was best summed up by an elderly magistrate dealing with an operator whose vehicle had a number of serious defects. In mitigation, the offending operator waved the vehicle's test certificate before the magistrate, who promptly reminded him that the certificate merely vouched for the vehicle at the time of the test. Whether the vehicle was fit to be on the road and still capable of passing the test again after it had left the test station and arrived back at its base, was quite another matter, the magistrate said.) A better measure of true vehicle standards is random spot-checks both on the road and at operators' premises, reckons Roy Hutchings. Having said that, he and his staff are keen not to interfere too heavily with a busy operator's day to day life. It must be said that, even if they wanted to, the LA and his staff are not constantly intervening.
With about 80,000 vehicles in his patch and just 22 traffic examiners and 31 vehicle examiners under his wing, Roy Hutchings and his men could hardly be accused of overkill. Keeping a low profile would be a better description of their methods.
"The size of the area and the number of vehicles involved means that there can only be random checks. We can't keep too close a watch — wouldn't want to."
Nevertheless, Mr Hutchings could usefully employ some additional staff "if the Minister were able to provide them". And although the number of examiners that he has is minimal when compared with the size of the area, he is thankful that he at least has more these days than he used to.
By now you might have concluded that operators in the North West (or anywhere else come to that) stand a good chance of avoiding detection when running illegally. You might even be right.
But it is worth studying the LA's tactics a little more closely. When Roy Hutchings says that he does not wish and is unable to keep too close a watch, I get the impression that he really means that he does not want to interfere when he knows an operator is genuinely towing the line. Those who are not making such an effort are treated differently.
"Some you know are good on maintenance for instance, and are trying and succeeding. We concentrate on the more suspect, perhaps." Having said that, Roy Hutchings is keen to point out that nobody is unfairly victimised. Conversely, nobody is exempt from scrutiny, either.
Between October 1981 and September 1982, 2,225 0-licence renewal applications were received by the North West LA's office, in addition to 1,900 new applications. Of those, 115 were refused at public inquiries or in chambers (if, for instance, the applicant was not a CPC holder or had made no arrangements for a transport manager with suitable qualifications).
A small company "employing" a CPC holder as its transport manager is treated with caution. So too is an ownerdriver who claims that he will have his vehicle maintained regularly at a local garage. To back up his claim such an applicant often produces a letter from a back-street garage giving absolutely no information about his proposed repair/maintenance arrangements, "There are far more details required than they seem to think," says Mr Hutchings.
And even when the details provided are adequate, they are often disregarded once the 0licence has been granted. Often an operator will say that his garage will carry out inspections at monthly intervals. Unfortunately, it is not until one of the LA's examiners goes to see the operator that he finds that, rather than monthly, his vehicle or vehicles are being checked sometimes at three-monthly intervals instead.
Incredibly, some of the ownerdrivers applying for 0-licences are not even aware of the CPC requirement. Roy Hutchings remembers one elderly applicant who had worked as a driver for years, had been made redundant, and stood little chance of getting another job.
With the redundancy pay that his ex-employer had just given him, the driver bought his vehicle with the intention of working for himself.
"He didn't stand an earthly chance of getting an 0-licence," said Mr Hutchings.
The disturbing thing about the whole episode is that the man's past employer who sold him the vehicle presumably knew that he would find it difficult to establish himself as an owner-driver and did not even warn him that a CPC was necessary before he could start operating.
At the end of the day, the man was not granted an 0-licence and was stuck with a vehicle that was useless to him. Of course, his ex-employer had got rid of a vehicle (possibly at a good price) that was not needed, and had taken back with one hand the redundancy money the firm had "paid out" with the other.
Roy Hutchings' advice to 0licence applicants is simple:
"After every application, a pamphlet called A Guide To Operators Licensing is issued. My advice to applicants is read it, and make certain that the arrangements you are making are on the lines of those suggested in the pamphlet. Provided you read it you'll know everything you'll need to know.
"We're not in the business of turning people down, but we will if we have to."
Delving into an operator's finances is the "most difficult area of the lot", according to Roy Hutchings.
"We've prepared a form peculiar to this traffic area primarily designed to get an applicant to realise what his costs are going to be and then to assess his income. If we're in doubt about his financial standing we'll haul him up to a public inquiry."
The biggest on-going difficulty that Mr Hutchings and his staff face is that of overloading. The number of overloaded Irish vehicles travelling through the North West used to cause problems, but the situation has greatly improved since a dynamic weighbridge was installed at Holyhead 15 months ago. Discussions between the Department of Transport and the Irish DTp have also helped, it is claimed.
"It's still a problem but it's improving. There's been a substantial reduction in the number of offences with vehicles coming into Holyhead."
Tipper operators, usually owner-drivers, are often guilty, too. Apart from overloading, some are not in the least concerned about licensing, maintenance and drivers' hours, says Mr Hutchings who, at the same time, appreciates that there can be certain difficulties with axle overloading on tippers.
Psv checks and inspections are equally important in the effort to improve safety standards. The North West LA's staff undertake regular purges on coach operators during the Blackpool illuminations season.
"The interesting thing is that there are a number of apparent contraventions of law at the beginning of each purge, and not so many at the end." Draw your own conclusions from that.
If an operator fears that he may have his vehicle checked by an examiner when visiting Blackpool and, as a result, makes sure that his vehicle is in top condition, the enforcement staff — perhaps by doing nothing — have indirectly achieved something. Roy Hutchings' staff might be "all too small", but they are an effective deterrent at times. The checks carried out at Blackpool are usually done when the vehicles are parked, either in back streets or coach parks. Because they are parked up, the examiners can check the vehicles without a police officer (the police have to be present when a vehicle is stopped on the road as only they have the legal power to halt a moving vehicle). There is also the added bonus that passengers are not inconvenienced when checks are made on parked vehicles.
The original reason for the Blackpool purges, says Roy Hutchings, was to check drivers' hours.
"It's all too easy with a coach coming any distance for a breach of hours."
Mr Hutchings cannot say exactly how many roadside inspection sites there are in the North West. What he can say is that some are used more than others and that many of the sites have weighbridges. A new site is planned for Sarnlesbury, near Preston, although negotiations are still in progress and are by no means definite. Very often the roadside checks are joint efforts with vehicle examiners and traffic examiners taking part, in addition to the police. Silent checks are also common and are an effective way of dealing with tachograph offences for instance.
Although Roy Hutchings does not blame the owner-drivers for all that is wrong in road transport, he recognises that they can create problems that are impossible to deal with. "How, for instance, do you deal with the cowboy who doesn't even have a licence? A fine means nothing. It's often impossible to even trace the person."
But Mr Hutchings' role is also to protect owner-drivers who occasionally get involved in unfavourable agreements. "If a man comes to me and says 'I'm an owner-driver and I'm contracted to one employer I ask to see a copy of the contract. I go to great lengths to point out the risks he may be taking, but I've got no grounds for refusing him if everything else is in order.
"Anyone thinking of entering into one of these agreements would do well to spend £50 with a solicitor or accountant first."
Some arrangements between owner-drivers and companies can be highly unsatisfactory, he claims.
Following numerous letters at CM from owner-drivers who have had problems working exclusively for one company, I asked Roy Hutchings whether some companies are perhaps playing on the ignorance, even the stupidity of some individuals.
"Some are playing on people's thickness. In recession, it's one way of working." The following events have been scheduled to take place in December
6 Freight Transport Association Chartered Institute of Transport: meeting at MPTE offices, 6.30pm, Hatton Garden, Liverpool.
Institute of Road Transport Engineers: The problems of hgv training by E. Russell, RTITB instructor, at 7.30pm, Frys Social Club, Somerdale, Keynsham, Avon.
IRTE: Use of Skidchek by P. Nicholls of Lucas Girling at 7.30pm, University of Strathclyde, Glasgow.
7 FTA: Current Legislation by FTA speaker at 7.3 0 pm, Raven Hotel, Droitwich.
FTA: Current legislation at 7pm, Station Hotel, Perth. FTA: Export Europe — Delivering the goods seminar at St John's Hotel, Warwick Road, Solihull.
IRTE: History of Dennis and fire appliance development from 1945 by R. Rees at 8pm, Cranfield Institute of Technology.
IRTE: Developments in oils and evening visit to Duckhams. Starts at 7.30pm, Dartmouth Cricket Club, Birmingham Road, West Bromwich. IRTE: Vehicle fuel economy by W. Ramsbottom of Kysor Industrial at 7.30pm, Crosville Motor Services, Sealand Road, Chester.
IRTE: Development of the Ford Cargo, by B. Newman of Ford Motor Company at 7.30pm, the Shaftesbury Hotel, Mount Pleasant, Liverpool.
IRTE: Automatic Brake Adjustment by B. Clancy of SAB Automotive at 8pm, the Shillingford Bridge Hotel, Shillingford, nr Wallingford, Oxfordshire.
8 FTA: Current legislation by FTA Speaker at 7pm, Central Hotel, Glasgow.
FTA: Delivering the goods seminar at Rugby Post House, Crick.
IRTE: The work of a Licensing Authority by Ken Peter of the Eastern Traffic Area at 7.30pm, Eastern Electricity Sports and Social Club, Davey Place, Norwich.
IRTE: Multipart by G. Gadie of Leyland Vehicles at 7.30pm, Southcrest Hotel, Mount Pleasant, Redditch.
IRTE: Heavy vehicle recovery by R. Grice, sales manager of Wreckers International at 7.30pm, the Aerodome Hotel, Purley Way, Croydon.
Tags
Organisations
:
Dartmouth Cricket Club
,
Eastern Electricity Sports and Social Club
,
Licensing Authority for the North Western
,
Institute of Road Transport Engineers
,
Licensing Authority
,
Freight Transport Association Chartered Institute of Transport
,
University of Strathclyde, Glasgow
,
Institute of Technology
,
Frys Social Club
,
Department of Transport and the Irish DTp