'Permits up forgrabs
4th December 1982
Page 4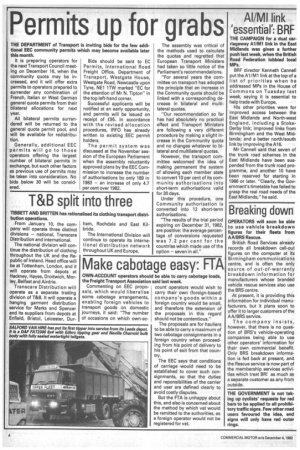 Page 4, 4th December 1982 —
'Permits up forgrabs
Close
It is preparing operators for the next Transport Council meeting on December 16, when the community quota may be increased, and it will offer extra permits to operators prepared to surrender any combination of French, Italian or West German general quota permits from their bilateral allocations for next year.
All bilateral permits surrendered will be returned to the general quota permit pool, and will be available for redistribution.
Generally, additional EEC permits will go to those operators offering the largest number of bilateral permits in exchange, but such other factors as previous use of permits may be taken into consideration. No bids below 30 will be considered. Bids should be sent to EC Permits, International Road Freight Office, Department of Transport, Westgate House, Westgate Road, Newcastle upon Tyne, NE1 11W marked "EC for the attention of Mr N. Tipton" in the top left-hand corner.
Successful applicants will be notified at an early opportunity, and permits will be issued on receipt of £95. In accordance with the revised allocation procedures, IRFO has already written to existing EEC permit holders.
The permit system was discussed at the November session of the European Parliament when the assembly reluctantly approved plans by the EEC Commission to increase the number of authorisations by only 189 in 1983 — an increase of only 4.7 per cent over 1982. The assembly was critical of the methods used to calculate the quotas and regretted that European Transport Ministers had taken so little notice of the Parliament's recommendations.
"For several years the committee on transport has adopted the principle that an increase in the Community quota should be linked with a corresponding decrease in bilateral and multilateral quotas.
"Our recommendation so far has had absolutely no practical effect and Transport Ministers are following a very different procedure by making a slight increase in the Community quota and no changes whatever to bilateral and multilateral quotas.
However, the transport committee welcomed the idea of making permanent the system of allowing each member state to convert 10 per cent of its community authorisations into short-term authorisations valid for 30 days.
Under this procedure, one Community authorisation is converted into 12 short-term authorisations.
"The results of the trial period expiring on December 31, 1982, are positive: the average percentage of conversions requested was 7.2 per cent for the countries which made use of the option — seven in all."