Make cabotage easy: FA
4th December 1982
Page 4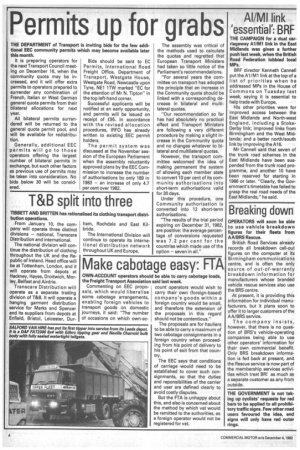 Page 4, 4th December 1982 —
Make cabotage easy: FA
Close
OWN-ACCOUNT operators should be able to carry cabotage loads, the Freight Transport Association said last week.
Commenting on EEC proposals, which would liberalise some cabotage arrangements, enabling foreign vehicles to transport goods on domestic journeys, it said: "The number of occasions on which own-ac count operators would wish to carry their own (foreign-based) company's goods within a foreign country would be small, and therefore the extension of the proposals in this regard should not be contentious."
The proposals are for hauliers to be able to carry a maximum of two cabotage consignments in a foreign country when proceeding from his point of delivery to his point of exit from that country.
The EEC says that conditions of carriage would need to be established to cover such consignments, so that the duties and reponsibilities of the carrier and user are defined clearly to avoid costly disputes.
But the FTA is unhappy about this, and also is concerned about the method by which vat would be remitted to the authorities, as a foreign operator would not be registered for vat.