The only trauma left is keeping right
4th December 1982
Page 36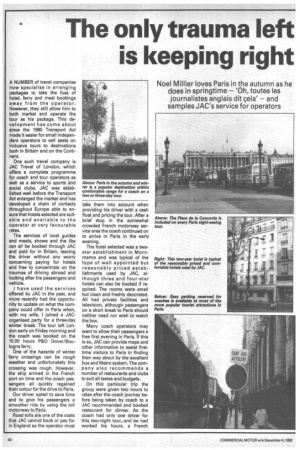 Page 37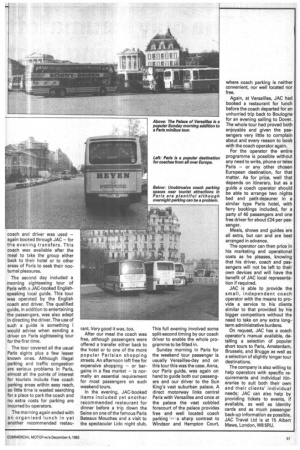 Page 36, 4th December 1982 —
The only trauma left is keeping right
Close
Noel Millier loves Paris in the autumn as he does in springtime — 'Oh, toutes les journalistes anglais dit cela' — and samples JAC's service for operators
A NUMBER of travel companies now specialise in arranging packages to take the fuss of hotel, ferry and meal bookings away from the operator. However, they still allow him to both market and operate the tour as his package. This development has come about since the 1980 Transport Act made it easier for small independent operators to sell seats on inclusive tours to destinations both in Britain and on the Continent.
One such travel company is JAC Travel of London, which offers a complete programme for coach and tour operators as well as a service to sports and social clubs. JAC was established well before the Transport Act enlarged the market and has developed a chain of contacts throughout Europe able to ensure that hotels selected are suitable and available to the operator at very favourable rates.
The services of local guides and meals, shows and the like can all be booked through JAC and paid for in Britain, leaving the driver without any worry concerning paying for hotels and free to concentrate on the traumas of driving abroad and looking after his passengers and vehicle.
I have used the services offered by JAC in the past, and more recently had the opportunity to update on what the company could offer in Paris when, with my wife, I joined a JACorganised party for a three-day winter break. The tour left London early on Friday morning and the coach was booked on the 10.00 hours P&O Dover/Boulogne ferry.
One of the hazards of winter ferry crossings can be rough weather and unfortunately this crossing was rough. However, the ship arrived in the French port on time and the coach passengers all quickly regained their colour for the drive to Paris.
Our driver opted to save time and to give his passengers a smoother ride by using the toll motorway to Paris.
Road tolls are one of the costs that JAC cannot book or pay for in England so the operator must take them into account when providing his driver with a cash float and pricing the tour. After a brief stop in the somewhat crowded French motorway service area the coach continued on to arrive in Paris in the early evening.
The hotel selected was a twostar establishment in Montmartre and was typical of the type of well appointed but reasonably priced establishments used by JAC, although three and four-star hotels can also be booked if required. The rooms were small but clean and freshly decorated. All had private facilities and television, although passengers on a short break to Paris should neither need nor wish to watch the box.
Many coach operators may want to allow their passengers a free first evening in Paris. If this is so, JAC can provide maps and other information to assist firsttime visitors to Paris in finding their way about by the excellent bus and Metro system. The company also recommends a number of restaurants and clubs to suit all tastes and budgets.
On this particular trip the group were given two hours to relax after the coach journey before being taken by coach to a JAC recommended and booked restaurant for dinner. As the coach had only one driver for this two-night tour, and he had worked his hours, a French coach and driver was used — again booked through JAC — for the evening transfers. This coach was available after the meal to take the group either back to their hotel or to other areas of Paris to seek their nocturnal pleasures.
The second day included a morning sightseeing tour of Paris with a JAC-booked Englishspeaking local guide. This tour was operated by the English coach and driver. The qualified guide, in addition to entertaining the passengers, was also adept in directing the driver. The use of such a guide is something I would advise when sending a driver on Paris sightseeing tour for the first time.
The tour covered all the usual Paris sights plus a few lesser known ones. Although illegal parking and traffic congestion are serious problems in Paris, almost all the points of interest for tourists include free coach parking areas within easy reach, so little time is wasted searching for a place to park the coach and no extra costs for parking are incurred by operators.
The morning again ended with an organised lunch in yet another recommended restau rant. Very good it was, too.
After our meal the coach was free, although passengers were offered a transfer either back to the hotel or to one of the more popular Parisian shopping streets. An afternoon left free for expensive shopping — or bargains in a flea market — is normally an essential requirement for most passengers on such weekend tours.
In the evening, JAC-booked items included yet another recommended restaurant for dinner before a trip down the Seine on one of the famous Paris Bateaux Mouches and a visit to the spectacular Lido night club. This full evening involved some split-second timing by our coach driver to enable the whole programme to be fitted in.
Sunday morning in Paris for the weekend tour passenger is usually Versailles-day and on this tour this was the case. Anna, our Paris guide, was again on hand to guide both our passengers and our driver to the Sun King's vast suburban palace. A direct motorway links central Paris with Versailles and once at the palace the vast cobbled forecourt of the palace provides free and well located coach parking — a sharp contrast to Windsor and Hampton Court, where coach parking is neither convenient, nor well located nor free.
Again, at Versailles. JAC had booked a restaurant for lunch before the coach departed for an unhurried trip back to Boulogne for an evening sailing to Dover. The whole tour had proved both enjoyable and given the passengers very little to complain about and every reason to book with the coach operator again.
For the operator the entire programme is possible without any need to write, phone or telex Paris — or any other chosen European destination, for that matter. As for price, well that depends on itinerary, but as a guide a coach operator should be able to arrange two nights bed and petit-dejeuner in a similar type Paris hotel, with ferry bookings included, for a party of 40 passengers and one free driver for about £24 per passenger.
Meals, shows and guides are all extra, but can and are best arranged in advance.
The operator can then price in his marketing and operational costs as he pleases, knowing that his driver, coach and passengers will not be left to their own devices and will have the benefit of JAC local representation if required.
JAC is able to provide the small, independent coach operator with the means to provide a service to his clients similar to that provided by his bigger competitors without the need to take on any extra longterm administrative burdens.
On request, JAC has a coach operator's manual available, detailing a selection of popular short tours to Paris, Amsterdam, Brussels, and Brugge as well as a selection of slightly longer tour destinations.
The company is also willing to help operators with specific requirements and individual itineraries to suit both their own and their clients' individual needs; JAC can also help by providing tickets to events, if available, as well as identity cards and as much passenger back-up information as possible. JAC Travel Ltd is at 15 Albert Mews, London, W8 5RU.