FTA hails its victory
4th December 1982
Page 3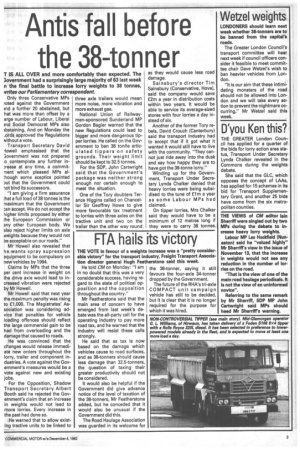 Page 3, 4th December 1982 —
FTA hails its victory
Close
THE VOTE in favour of a weights increase was a "pretty considerable victory" for the transport industry, Freight Transport Association director general Hugh Featherstone said this week.
He told CM on Monday: "lam in no doubt that this was a very considerable success, having regard to the state of political opposition and the opposition throughout the country."
Mr Featherstone said that the main area of concern to have emerged from last week's debate was the all-party call for the operating industry to pay more road tax, and he warned that the industry will resist these calls strongly.
He said that as tax is now based on the damage which vehicles cause to road surfaces, and as 38-tonners should cause less damage than 32.5-tonners, the question of taxing their greater productivity should not be considered.
It would also be helpful if the Government did give advance notice of the level of taxation of the 38-tonners, Mr Featherstone added, but he conceded that it would also be unusual if the Government did this.
The Road Haulage Association was guarded in its welcome for the 38-tonner, saying it still favours the four-axle 34-tonner dropped by the Government.
The future of the RHA's tri-axle COMPACT unit campaign vehicle has still to be decided, but it is clear that it is no longer required for the purpose for which it was hired.