Antis fall before the 38-tonner
4th December 1982
Page 3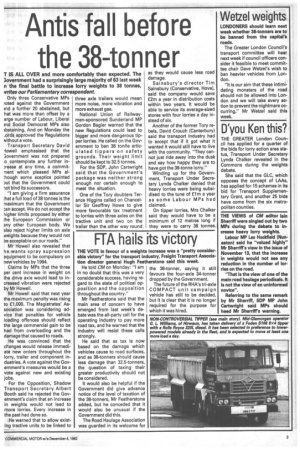 Page 3, 4th December 1982 —
Antis fall before the 38-tonner
Close
T IS ALL OVER and more corn 3overnment had a surprisingly n the final battle to increase writes our Parliamentary corres Only three Conservative MPs toted against the Government Ind a further 20 abstained, but hat was more than offset by a arge number of Labour, Liberal Ind Social Democrat MPs also lbstaining. And on Monday the _ords approved the Regulations tvithout a vote.
Transport Secretary David -lowell emphasised that the 3overnment was not prepared :0 contemplate any further in:Tease at any time, a commitment which pleased MPs al:hough some sceptics pointed )ut that the Government could lot bind its successors.
"I am giving a firm assurance lhat a full load of 38 tonnes is the maximum that the Government an accept. We do not accept the higher limits proposed by either the European Commission or any other European body. We also reject higher limits on axle weights because they would not be acceptable on our roads."
Mr Howell also revealed that he wants spray supression equipment to be compulsory on new vehicles by 1984.
Claims by MPs that the three per cent increase in weight on the drive axle would lead to increased vibration were rejected by Mr Howell.
Mr Howell said that next year the maximum penalty was rising to £1,000. The Magistrates' Association was considering advice that penalties for vehicle loading offences should reflect the large commercial gain to be had from overloading and the damage that caused to roads.
He was convinced that the changes would release immediate new orders throughout the lorry, trailer and component industries. A vote against the Government's measures would be a vote against new and existing jobs.
For the Opposition, Shadow Transport Secretary Albert Booth said he rejected the Government's claim that an increase in weights would not lead to more lorries. Every increase in the past had done so.
He warned that to allow existing tractive units to be linked to fortably than expected. The large majority of 63 last week lorry weights to 38 tonnes, pondent three axle trailers would mean more noise, more vibration and more exhaust gas.
National Union of Railwaymen-sponsored Sunderland MP Gordon Bagier warned that the new Regulations could lead to bigger and more dangerous tipper lorries. He called on the Government to ban 38 tone articulated tippers on safety grounds. Their weight limit should be kept to 32.5 tonnes.
For the SDP, John Cartwright said that the Government's package was neither strong enough nor certain enough to meet the situation.
One of the Tory doubters Terance Higgins called on Chancellor Sir Geoffrey Howe to give more favourable tax treatment to lorries with three axles on the tractive unit and two on the trailer than the other way round as they would cause less road damage.
Sainsbury's director Tim Sainsbury (Conservative, Hove), said the company would save £2m a year in distribution costs within two years. It would be able to service its average-sized stores with four lorries a day instead of six.
Another of the former Tory rebels, David Crouch (Canterbury) said the transport industry had to accept that if it got what it wanted it would still have to live with the community. "They cannot just ride away into the dusk and say how happy they are to have got the 38-tonne lorry."
Winding up for the Government, Transport Under Secretary Lynda Chalker denied that heavy lorries were being subsidised to the tune of Lim a year as some Labour MPs had claimed.
On tipper lorries, Mrs Chalker said they would have to be a minimum of 12 metres long if they were to carry 38 tonnes.