very important change. There are now three distinct parts, with
4th December 1982
Page 28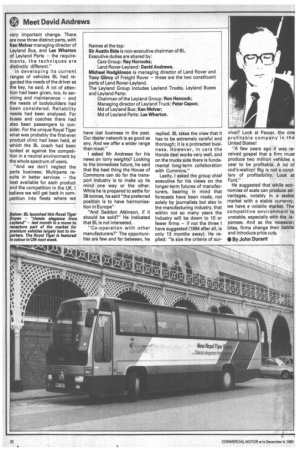 Page 28, 4th December 1982 —
very important change. There are now three distinct parts, with
Close
Ken McIver managing director of Leyland Bus, and Les Wharton of Leyland Parts — the requirements, the techniques are distinctly different."
In developing its current ranges of vehicles BL had regarded the needs of the driver as the key, he said. A lot of attention had been given, too, to servicing and maintenance — and the needs of bodybuilders had been considered. Reliability needs had been analysed. For buses and coaches there had also been passengers to consider. For the unique Royal Tiger what was probably the first-ever product clinic had been held, at which the BL coach had been looked at against the competition in a neutral environment by the whole spectrum of users.
"And we don't neglect the parts business; Multiparts results in better services — the best available for each product and the competition in the UK. I believe we will get back in competition into fleets where we have lost business in the past. Our dealer network is as good as any. And we offer a wider range than most."
I asked Mr Andrews for his news on lorry weights? Looking to the immediate future, he said that the best thing the House of Commons can do for the transport industry is to make up its mind one way or the other. While he is prepared to settle for 38 tonnes, he said "the preferred position is to have harmonisation in Europe" "And Seddon Atkinson, if it should be sold?" He indicated that BL is not interested.
"Co-operation with other manufacturers?" The opportunities are few and far between, he replied. BL takes the view that it has to be extremely careful and thorough; it is a protracted business. However, in cars the Honda deal works very well, and on the trucks side there is fundamental long-term collaboration with Cummins."
Lastly, I asked the group chief executive for his views on the longer-term futures of manufacturers, bearing in mind that forecasts have been made, not solely by journalists but also in the manufacturing industry, that within not so many years the industry will be down to 10 or fewer firms — if not the three I have suggested (1984 after all, is only 13 months away). He replied: "Is size the criteria of sur
vival? Look at Paccar, the one profitable company in the United States!
"A few years ago it was received gospel that a firm must produce two million vehicles a year to be profitable. A lot of cod's-wallop! Big is not a corollary of profitaibility. Look at Ford."
He suggested that while economies of scale can produce advantages, notably in a stable market with a stable currency, we have a volatile market. The competitive environment is unstable, especially with the Japanese. And as the recession bites, firms change their habits and introduce price cuts.
• By John Durarit