The future for coaching
4th December 1982
Page 22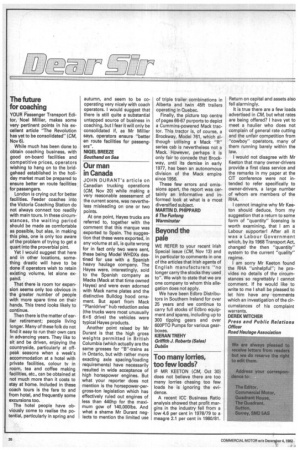 Page 22, 4th December 1982 —
The future for coaching
Close
YOUR Passenger Transport Editor, Noel Millier, makes some very pertinent points in his excellent article "The Revolution has yet to be consolidated" (CM, Nov 6).
While much has been done to obtain coaching business, with good on-board facilities and competitive prices, operators wishing to hang on to the bridgehead established in the holiday market must be prepared to ensure better en route facilities for passengers.
London is crying out for better facilities. Feeder coaches into the Victoria Coaching Station do not always connect too readily with main tours. In these circumstances, the waiting period should be made as comfortable as possible, but alas, in making this plea, one is only too aware of the problem of trying to get a quart into the proverbial pint.
Yet I would suggest that here and in other locations, something drastic will have to be done if operators wish to retain existing volume, let alone expand.
That there is room tor expansion seems only too obvious in the greater number of people with more spare time on their hands. This trend looks likely to continue.
Then there is the matter of earlier retirement; people living longer. Many of these folk do not find it easy to run their own cars in advancing years. They like to sit and be driven, enjoying the countryside, particularly at offpeak seasons when a week's accommodation at a hotel with private facilities, colour tv in room, tea and coffee making facilities, etc., can be obtained at not much more than it costs to stay at home. Included in these coach tours is the fare to and from hotel, and frequently some excursions too.
The hotel people have obviously come to realise the potential, particularly in spring and autumn, and seem to be cooperating very nicely with coach operators. I would suggest that there is still quite a substantial untapped source of business in coaching, but I fear it will only be consolidated if, as Mr Millier says, operators ensure "better en route facilities for passengers".
NIGEL BREEZE Southend on Sea
Our man in Canada
JOHN DURANT's article on Canadian trucking operations (CM, Nov 20) while making a very reasonable assessment of the current scene, was nevertheless misleading on one or two points.
At one point, Hayes trucks are referred to, together with the comment that this marque was exported to Spain. The suggestion that these were exported, in any volume at all, is quite wrong for in fact only two were sent, these being Model WHDXs destined for use with a Spanish heavy haulage company. The Hayes were, interestingly, sold to the Spanish company as Macks (Mack at that time owned Hayes) and were even adorned with Mack name plates and the distinctive Bulldog hood ornament. But apart from Mack "Planidrive" hub reduction axles (the trucks were most unusually 6x6 drive) the vehicles were typical Hayes products.
Another point raised by Mr Durant is that the high gross weights permitted in British Columbia (which actually are the same grosses for "B"-trains as in Ontario, but with rather more exacting axle spacing/loading requirements) have necessarily resulted in wide acceptance of high horsepower engines. But what your reporter does not mention is the horsepower-pergross-ton legislation which has effectively ruled out engines of less than 440hp for the maximum gcw of 140,000Ibs. And what a shame Mr Durant neglects to mention the limited use of triple trailer combinations in Alberta and twin 45ft trailers operating in Quebec.
Finally, the picture top centre of pages 66-67 purports to depict a Cummins-powered Mack tractor. This tractor is, of course, a Brockway, Model 761, which although utilising a Mack "R" series cab is nevertheless not a Mack. However, perhaps it is only fair to concede that Brockway, until its demise in early 1977, has been an autonomous division of the Mack empire since 1956.
These few errors and omissions apart, the report was certainly an informative and informed look at what is a most diversified subject.
MARTIN D. PHIPPARD 6 The Furlong Warminster
Beyond the pale
WE REFER to your recent Irish Special issue (CM, Nov 13) and in particular to comments in one of the articles that Irish agents of English manufacturers "no longer carry the stocks they used to". We wish to state that we are one company to whom this allegation does not apply.
We have been Edbro Distributors in Southern Ireland for over 25 years and we continue to carry full stocks of Edbro equipment and spares, including up to 300 tipping gears and over 600PTO Pumps for various gearboxes.
KIERAN TREHY Griffith J. Roberts (Sales) Dublin
Too many lorries, too few loads?
IF MR KEETON (CM, Oct 30) does not believe there are too many lorries chasing too few loads he is ignoring the evidence.
A recent ICC Business Ratio analysis showed that profit margins in the industry fell from a low 4.6 per cent in 1978/79 to a meagre 2.1 per cent in 1980/81. Return on capital and assets also fell alarmingly.
It is true there are a few loads advertised in CM, but what rates are being offered? I have yet to meet a haulier who does not complain of general rate cutting and the unfair competition from "cowboy" operators, many of them running barely within the law.
I would not disagree with Mr Keeton that many owner-drivers provide a first class service and the remarks in my paper at the CIT conference were not intended to refer specifically to owner-drivers, a large number of whom are members of the RHA.
I cannot imagine why Mr Keeton should deduce, from my suggestion that a return to some form of "quantity" licensing is worth examining, that I am a Labour supporter! After all it was a Labour Government which, by its 1968 Transport Act, changed the then "quantity" system to the current "quality" regime.
I am sorry Mr Keeton found the RHA "unhelpful"; he provides no details of the circumstances so regrettably I cannot comment. If he would like to write to me I shall be pleased to let him have any comments which an investigation of the circumstances of his complaint warrants.
DEREK WITCHER Press and Public Relations Officer Road Haulage Association