Mice or men?
4th December 1982
Page 2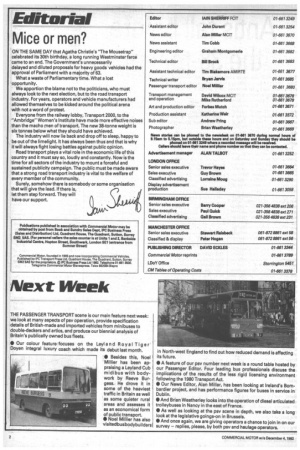 Page 2, 4th December 1982 —
Mice or men?
Close
ON THE SAME DAY that Agatha Christie's "The Mousetrap" celebrated its 30th birthday, a long running Westminster farce came to an end. The Government's unnecessarily delayed and diluted proposals for heavy goods vehicles had the approval of Parliament with a majority of 63.
What a waste of Parliamentary time. What a lost opportunity.
We apportion the blame not to the politicians, who must always look to the next election, but to the road transport industry. For years, operators and vehicle manufacturers had allowed themselves to be kicked around the political arena with not a word of protest.
Everyone from the railway lobby, Transport 2000, to the "Ambridge" Women's Institute have made more effective noises than the macho men of transport. The new 38-tonne weight is six tonnes below what they should have achieved.
The industry will now lie back and drop off to sleep, happy to be out of the limelight. It has always been thus and that is why it will always fight losing battles against public opinion.
Road transport plays a vital role in the economic life of this country and it must say so, loudly and constantly. Now is the time for all sectors of the industry to mount a forceful and sustained publicity campaign. The public must be made aware that a strong road transport industry is vital to the welfare of every member of the community.
Surely, somehow there is somebody or some organisation that will give the lead. If there is, let them step forward. They will have our support.