York on track
4th December 1982
Page 14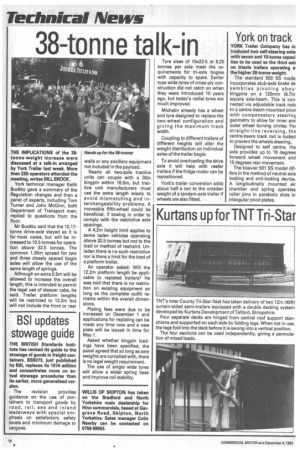 Page 14, 4th December 1982 —
York on track
Close
YORK Trailer Company has in troduced two self-steering axial with seven and 10-tonne capaci ties to be used as the third exit on triaxle trailers operating al the higher 38-tonne weight.
The standard 500 SS mode incorporates stub-axle brake as semblies pivoting aboui kingpins on a 120mm (4.7in: square axle-beam. This is connected via adjustable track rods to a centre-beam-mounted pivol with compensatory steering geometry to allow for inner and outer wheel turning circles. Fot straight-line reversing, the centre-beam track rod is locked to prevent the wheels steering.
Designed to self centre, the axle provides up to 19 degrees forward wheel movement and 15 degrees rear movement.
The heavier 501 SS model differs in the method of neutral axis locking and anti-locking device. A longitudinally mounted air chamber and spring operates roller pins in parabolic slots in triangular pivot plates.