38-tonne talk-in
4th December 1982
Page 14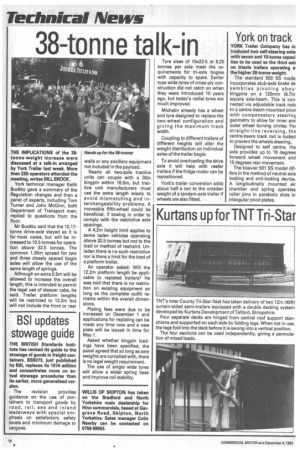 Page 14, 4th December 1982 —
38-tonne talk-in
Close
THE IMPLICATIONS of the 38tonne-weight increase were discussed at a talk-in arranged by York Trailer last week. More than 220 operators attended the meeting, writes BILL BROCK.
York technical manager Keith Buckby gave a summary of the Regulation changes and then a panel of experts, including Tom Turner and John McGinn, both Department of Transport men, replied to questions from the floor.
Mr Buckby said that the 10.17tonne drive-axle stayed as it is for most cases, but will be increased to 10.5 tonnes for operation above 32.5 tonnes. The common 1.35m spread for two and three closely spaced bogie axles will allow the use of the same length of springs.
Although an extra 0.5m will be allowed to increase the overall length, this is intended to permit the legal use of sleeper cabs, he said. Trailer platform lengths will be restricted to 12.2m but will not include the front or rear walls or any ancillary equipment not included in the payload.
Nearly all two-axle tractive units can couple with a 30in kingpin within 15.5m, but tractive unit manufacturers must use the extra length wisely to avoid mismatching and interchangeability problems. A moveable fifth-wheel could be beneficial, if towing in order to comply with the restrictive axle spacings.
A 4.2m height limit applies to some laden vehicles operating above 32.5 tonnes but not to the load or method of restraint. Unladen there is no such restriction nor is there a limit for the load of a platform trailer.
An operator asked: Will the 12.2m platform length be applicable to replated trailers? He was told that there is no restriction on existing equipment so long as the complete outfit remains within the overall dimensions.
Plating fees were due to be increased on December 1 and applications for replating can be made any time now and a new plate will be issued in time for May 1.
Asked whether kingpin loadings have been specified, the panel agreed that so long as axle weights are complied with, there is no legal weight requirement.
The use of single wide tyres will allow a wider spring base and improve roll stability. Tyre sizes of 15x22-5 at 8.25 tonnes per axle meet the requirements for tri-axle bogies with capacity to spare. Earlier type wide tyres of cross-ply construction did not catch on when they were introduced 10 years ago, but today's radial tyres are much improved.
Michelin already has a wheel and tyre designed to replace the two-wheel configuration and giving the maximum track width.
Coupling to different trailers of different heights will alter the weight distribution on individual axles of the trailer bogie.
To avoid overloading the drive axle it will help with reefer trailers if the fridge motor can be repositioned.
York's trailer conversion adds about half a ton to the unladen weight of a tandem-axle trailer if wheels are also fitted.