NBC sells bus share
4th December 1982
Page 13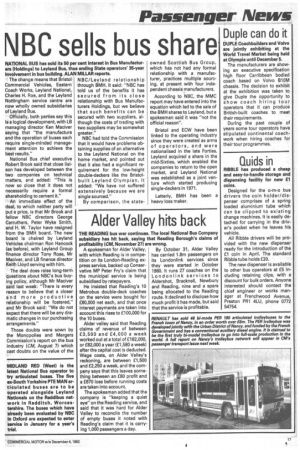 Page 13, 4th December 1982 —
NBC sells bus share
Close
Keywords :
Buses
,
Land Transport
,
Transport
,
Road Transport
,
Double-decker Buses
,
Leyland Motors
,
Associated Equipment Company
,
Charles H. Roe
,
Leyland National
,
Leyland Olympian
,
Single-deck Bus
,
Eastern Coach Works
NATIONAL BUS has sold its 50 per ers (Holdings) to Leyland Bus, thus Involvement in bus building. ALAN The change means that Bristol. Commercial Vehicles, Eastern Coach Works, Leyland National, Charles H. Roe, and the Leyland Nottingham service centre are now wholly owned subsidiaries of Leyland Bus.
Officially, both parties say this is a logical development, with LB managing director Ken Maciver saying that "the manufacture and the operation of buses each require single-minded management attention to achieve the best results."
National Bus chief executive Robert Brook said that close liaison has developed between the two companies on technical matters, and added: "This is now so close that it does not necessarily require a formal shareholding to cement it."
An immediate effect of the deal, to which neither party will put a price, is that Mr Brook and fellow NBC directors George Carruthers, Peter Wyke Smith, and H. W. Taylor have resigned from the BMH board. The new board is chaired by Leyland Vehicles chairman Ron Hancock (as before), with Leyland Group finance director Tony Rose, Mr Maciver, and LB finance director Keith Lloyd serving with him.
The deal does raise long-term questions about NBC's bus buying policy, although Mr Maciver said last week: "There is every reason to believe that a closer and more productive relationship will be fostered," and Mr Brook said: "We do not expect that there will be any dramatic changes in our purchasing arrangements."
Those doubts were sown by the Monopolies and Mergers Commission's report on the bus industry (CM, August 7) which cast doubts on the value of the cent interest in Bus Manufacturending State operators' 35-year MILLAR reports.
NBC/Leyland relationship through BMH. It said: "NBC has told us of the benefits it has secured from its close relationship with Bus Manufacturers Holdings, but we believe that such benefits can be secured with two suppliers, although the costs of trading with two suppliers may be somewhat greater."
NBC had told the Commission that it would have problems obtaining supplies of an alternative to the Leyland National on the home market, and pointed out that it also had a significant requirement for the low-height double-deckers like the Bristolbuilt Leyland Olympian. It added: "We have not suffered extensively because we are single sourced."
By comparison, the state owned Scottish Bus Group, which has not had any formal relationship with a manufacturer, practices multiple sourcing, at present with four independent chassis manufacturers.
According to NBC, the MMC report may have entered into the equation which led to the sale of the BMH shares to Leyland, but a spokesman said it was "not the official reason".
Bristol and ECW have been linked to the operating industry since they were created as arms of operators, and were nationalised in the late Forties. Leyland acquired a share in the mid-Sixties, which enabled the companies to return to the open market, and Leyland National was established as a joint venture which started producing single-deckers in 1971.
Latterly, BMH has been a heavy loss maker.