WM bids for more cash
4th December 1982
Page 12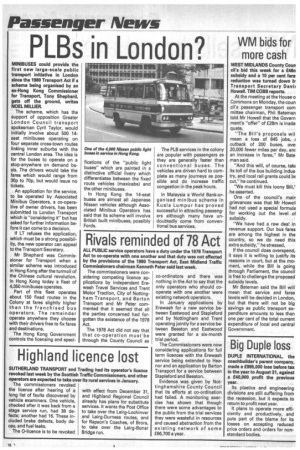 Page 12, 4th December 1982 —
WM bids for more cash
Close
WEST MIDLANDS County Coun cil's bid this week for a £46n subsidy and a 10 per cent fare reduction was turned down Iv Transport Secretary David Howell. TIM COBB reports.
At the meeting at the House o Commons on Monday, the coun cil's passenger transport corn mittee chairman, Phil Bateman told Mr Howell that the Govern ment's "offer" of £28m is made quate.
"The Bill's proposals wil mean a loss of 645 jobs, cutback of 200 buses, °ye' 20,000 fewer miles per day, anc an increase in fares," Mr Bate man said.
"And this will, of course, takE its toll of the bus building industry, and local rail grants could bE cut," he continued.
"We must kill this loony Bill,'' he asserted.
One of the council's main grievances was that Mr Howell had not used a special formula for working out the level of subsidy.
"We have had a raw deaf in revenue support. Our bus fares are among the highest in the country, so we do need this extra subsidy," he stressed.
If the council does overspend, it says it is willing to justify its reasons in court, but at the moment, while the Bill is going through Parliament, the council is free to challenge the proposed subsidy levels.
Mr Bateman said the Bill will mean that service and fares levels will be decided in London, but that there will not be big savings as public transport ex penditure amounts to less than one per cent of the total current expenditure of local and central Government.