Rivals reminded of 78 Act
4th December 1982
Page 12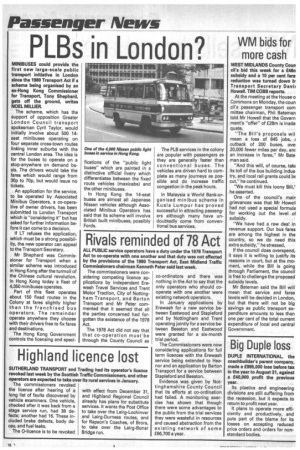 Page 12, 4th December 1982 —
Rivals reminded of 78 Act
Close
ALL PUBLIC service operators have a duty under the 1978 Transport Act to co-operate with one another and that duty was not affected by the provisions of the 1980 Transport Act, East Midland Traffic Commissioners chairman Kenneth Peter said last week.
The commissioners were considering competing licence applications by independent Erewash Travel Services and Trent Motor Traction, City of Nottingham Transport, and Barton Transport and Mr Peter commented that it seemed that all the parties concerned had forgotten the existence of the 1978 Act.
The 1978 Act did not say that that co-operation must be through the County Council as co-ordinators and there was nothing in the Act to say that the only operators who should cooperate with one another were existing network operators.
In January applications by Erewash for a new service between Eastwood and Stapleford and by Nottingham and Trent operating jointly for a service between Beeston and Eastwood were granted for a six-month trial period.
The Commissioners were now considering applications for full term licences with the Erewash service being extended to Heanor and an application by Barton Transport for a service between Stapleford and Beeston.
Evidence was given by Nottinghamshire County Council that its efforts at co-ordination had failed. A monitoring exercise has shown that though there were some advantages to the public from the trial services they were wasteful in resources and caused abstraction from the existing network of some £66,700 a year.