PLBs in London?
4th December 1982
Page 12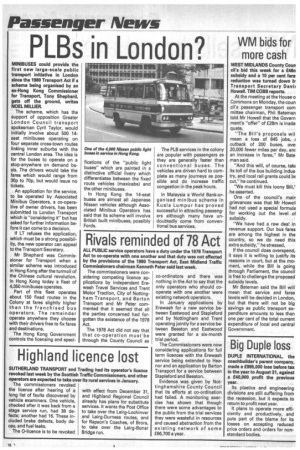 Page 12, 4th December 1982 —
PLBs in London?
Close
MINIBUSES could provide the first new large-scale public transport initiative in London since the 1980 Transport Act if a scheme being organised by an ex-Hong Kong Commissioner for Transport, Tony Shepherd, gets off the ground, writes NOEL MILLIER.
The scheme, which has the support of opposition Greater London Council transport spokesman Cyril Taylor, would initially involve about 500 14seat minibuses operating on four separate cross-town routes linking inner suburbs with the central London area. The idea is for the buses to operate on a stop-anywhere on demand basis. The drivers would take the fares which would range from 30p to 70p, but would issue no tickets.
An application for the service, to be operated by Associated Minibus Operators, a co-operative of owner drivers, has been submitted to London Transport which is "considering it" but has asked for further information before it can come to a decision.
If LT refuses the application, which must be a strong possibility, the new operator can appeal to the Transport Secretary.
Mr Shephard was Commissioner for Transport when a similar scheme was introduced in Hong Kong after the turmoil of the Chinese cultural revolution. In Hong Kong today a fleet of 4,350 minibuses operates.
Part of this fleet operates about 150 fixed routes in the Colony at fares slightly higher than the franchised bus operators. The remainder operate anywhere they choose with their drivers free to fix fares and destinations.
The Hong Kong Government controls the licensing and speci fications of the "public light buses" which are painted in a distinctive official livery which differentiates between the fixed route vehicles (maxicabs) and the other minibuses.
In Hong Kong the 14-seat buses are almost all Japanese Nissan vehicles although Associated Minibus Operators has said that its scheme will involve British built minibuses, possibly Fords. The PLB services in the colony are popular with passengers as they are generally faster than conventional buses. The vehicles are driven hard to complete as many journeys as possible and do increase traffic congestion in the peak hours.
In Malaysia a World Bank-organised minibus scheme in Kuala Lumpur has proved successful in attracting passengers although many have undoubtedly come from conventional bus services.