Speed looks to accelerate growth with subbie work
4th August 2011
Page 7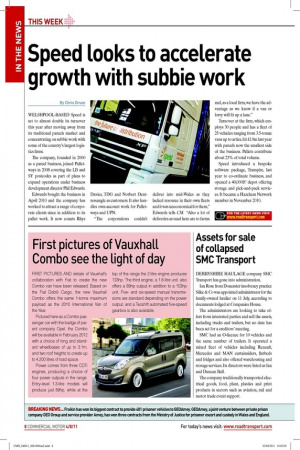 Page 7, 4th August 2011 —
Speed looks to accelerate growth with subbie work
Close
By Chris Druce WELSHPOOL-BASED Speed is set to almost double its turnover this year after moving away from its traditional parcels market and concentrating on subbie work with some of the country's largest logistics irms.
The company, founded in 2000 as a parcel business, joined Palletways in 2008 covering the LB and SY postcodes as part of plans to expand operations under business development director Phil Edwards.
Edwards bought the business in April 2010 and the company has worked to attract a range of corporate clients since in addition to its pallet work. It now counts Rhys Davies, TDG and Norbert Dentressangle as customers. It also handles own-account work for Palletways and UPN.
"The corporations couldn't
deliver into mid-Wales as they lacked resource in their own leets and it was uneconomical for them," Edwards tells CM. "Also a lot of deliveries around here are to farms
and, as a local irm, we have the advantage as we know if a van or lorry will it up a lane." Turnover at the irm, which employs 30 people and has a leet of 25 vehicles ranging from 3.5-tonne vans up to artics, hit £1.9m last year with parcels now the smallest side of the business. Pallets contribute about 23% of total volume.
Speed introduced a bespoke software package, Transpire, last year to co-ordinate business, and opened a 40,000ft2 depot offering storage and pick-and-pack services. It became a Hazchem Network member in November 2010.