Operators warned of tanker theft epidemic
4th August 2011
Page 5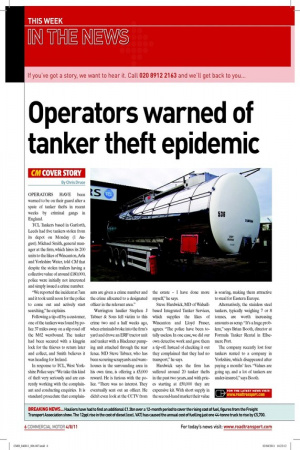 Page 5, 4th August 2011 —
Operators warned of tanker theft epidemic
Close
By Chris Druce OPERATORS HAVE been warned to be on their guard after a spate of tanker thefts in recent weeks by criminal gangs in England.
TCL Tankers based in Garforth, Leeds had ive tankers stolen from its depot on Monday (1 August). Michael Smith, general manager at the irm, which hires its 200 units to the likes of Wincanton, Arla and Yorkshire Water, told CM that despite the stolen trailers having a collective value of around £180,000, police were initially not interested and simply issued a crime number.
"We reported the incident at 7am and it took until noon for the police to come out and actively start searching," he explains.
Following a tip-off by a customer, one of the tankers was found by police 37 miles away on a slip road off the M62 westbound. The tanker had been secured with a kingpin lock for the thieves to return later and collect, and Smith believes it was heading for Ireland.
In response to TCL, West Yorkshire Police says: "We take this kind of theft very seriously and are currently working with the complainant and conducting enquiries. It is standard procedure that complain
ants are given a crime number and the crime allocated to a designated oficer in the relevant area." Warrington haulier Stephen J Tabner & Sons fell victim to this crime two and a half weeks ago, when criminals broke into the irm's yard and drove an ERF tractor unit and tanker with a Blackmer pumping unit attached through the rear fence. MD Steve Tabner, who has been scouring scrapyards and warehouses in the surrounding area in his own time, is offering a £5,000 reward. He is furious with the police. "There was no interest. They eventually sent out an oficer. He didn't even look at the CCTV from the estate – I have done more myself," he says.
Steve Hardwick, MD of Walsallbased Integrated Tanker Services, which supplies the likes of Wincanton and Lloyd Fraser, agrees. "The police have been totally useless. In one case, we did our own detective work and gave them a tip-off. Instead of checking it out they complained that they had no transport," he says.
Hardwick says the irm has suffered around 20 tanker thefts in the past two years, and with prices starting at £50,000 they are expensive kit. With short supply in the second-hand market their value is soaring, making them attractive to steal for Eastern Europe.
Alternatively, the stainless steel tankers, typically weighing 7 or 8 tonnes, are worth increasing amounts as scrap. "It's a huge problem," says Brian Booth, director at Formula Tanker Rental in Ellsemere Port.
The company recently lost four tankers rented to a company in Yorkshire, which disappeared after paying a months' fees. "Values are going up, and a lot of tankers are under-insured," says Booth.