Southern comfort
4th August 2011
Page 43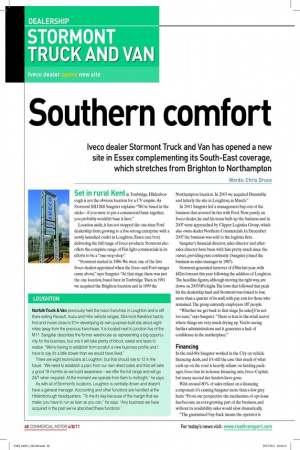 Page 44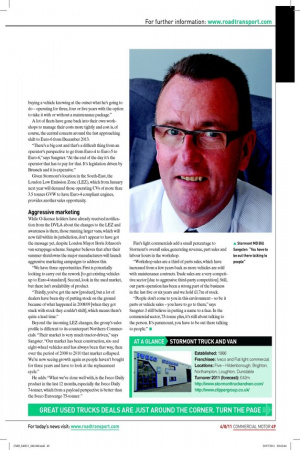 Page 43, 4th August 2011 —
Southern comfort
Close
Iveco dealer Stormont Truck and Van has opened a new site in Essex complementing its South-East coverage, which stretches from Brighton to Northampton
Words: Chris Druce Set in rural Kent in Tonbridge, Hildenborough is not the obvious location for a CV empire. As Stormont MD Bill Sangster explains: "We're based in the sticks – if you were to put a commercial basis together, you probably wouldn't base it here."
Location aside, it has not stopped the one-time Ford dealership from growing to a ive-strong enterprise with a newly launched outlet in Loughton, Essex (see box) delivering the full range of Iveco products. Stormont also offers the complete range of Fiat light commercials in its efforts to be a "one-stop shop".
"Stormont started in 1986. We were one of the irst Iveco dealers appointed when the Iveco and Ford merger came about," says Sangster. "At that stage there was just the one location, based here in Tonbridge. Then in 1991 we acquired the Brighton location and in 1999 the Northampton location. In 2003 we acquired Dunstable and latterly the site in Loughton, in March." In 2001 Sangster led a management buy-out of the business that severed its ties with Ford. Now purely an Iveco dealer, he and his team built up the business and in 2007 were approached by Clipper Logistics Group, which also owns dealer Northern Commercials. In December 2007 the business was sold to the logistics irm.
Sangster's inancial director, sales director and aftersales director have been with him pretty much since the outset, providing rare continuity (Sangster joined the business as sales manager in 1987).
Stormont generated turnover of £38m last year, with £42m forecast this year following the addition of Loughton. The headline igures, although moving the right way, are down on 2007/08's highs. The lows that followed that peak hit the dealership hard and Stormont was forced to lose more than a quarter of its staff, with pay cuts for those who remained. The group currently employees 187 people.
"Whether we get back to that stage [in sales] I'm not too sure," says Sangster. "There is fear in the retail sector where things are very much drying up. You're seeing further administrations and it generates a lack of conidence in the marketplace."
Financing
In the mid-80s Sangster worked in the City on vehicle inancing deals, and it's still the case that much of what ends up on the road is heavily reliant on funding packages. Iveco has its in-house inancing arm, Iveco Capital, but many second tier lenders have gone.
With around 80% of sales reliant on a inancing component it's causing Sangster more than a few grey hairs. "From our perspective the mechanism of ops lease has become an ever-growing part of the business, and without its availability sales would slow dramatically.
"The guaranteed buy-back means the operator is buying a vehicle knowing at the outset what he's going to do – operating for three, four or ive years with the option to take it with or without a maintenance package." A lot of leets have gone back into their own workshops to manage their costs more tightly and cost is, of course, the central concern around the fast approaching shift to Euro-6 from December 2013.
"There's a big cost and that's a dificult thing from an operator's perspective to go from Euro-4 to Euro-5 to Euro-6," says Sangster. "At the end of the day it's the operator that has to pay for that. It's legislation driven by Brussels and it is expensive." Given Stormont's location in the South-East, the London Low Emission Zone (LEZ), which from January next year will demand those operating CVs of more than 3.5 tonnes GVW to have Euro-4 compliant engines, provides another sales opportunity.
Aggressive marketing
While O-licence holders have already received notiication from the DVLA about the changes to the LEZ and awareness is there, those running larger vans, which will now fall within its jurisdiction, don't appear to have got the message yet, despite London Mayor Boris Johnson's van scrappage scheme. Sangster believes that after their summer shutdowns the major manufacturers will launch aggressive marketing campaigns to address this.
"We have three opportunities. First is potentially looking to carry out the rework [to get existing vehicles up to Euro-4 standard]. Second, look in the used market, but there isn't availability of product.
"Thirdly, you've got the new [product], but a lot of dealers have been shy of putting stock on the ground because of what happened in 2008/09 [when they got stuck with stock they couldn't shift], which means there's quite a lead time." Beyond the incoming LEZ changes, the group's sales proile is different to its counterpart Northern Commercials. "Their market is very much tractor-driven," says Sangster. "Our market has been construction, sixand eight-wheel vehicles and has always been that way, then over the period of 2008 to 2010 that market collapsed. We're now seeing growth again as people haven't bought for three years and have to look at the replacement cycle." He adds: "What we've done well with, is the Iveco Daily product in the last 12 months, especially the Iveco Daily 7-tonner, which from a payload perspective is better than the Iveco Eurocargo 7.5-tonner." Fiat's light commercials add a small percentage to Stormont's overall sales, generating revenue, part sales and labour hours in the workshop.
"Workshop sales are a third of parts sales, which have increased from a few years back as more vehicles are sold with maintenance contracts. Trade sales are a very competitive sector [due to aggressive third-party competition]. Still, our parts operation has been a strong part of the business in the last ive or six years and we hold £1.7m of stock.
"People don't come to you in this environment – so be it parts or vehicle sales – you have to go to them," says Sangster. I still believe in putting a name to a face. In the commercial sector, 7.5-tonne plus, it's still about talking to the person. It's paramount, you have to be out there talking to people." n