The state we're in
4th August 2011
Page 41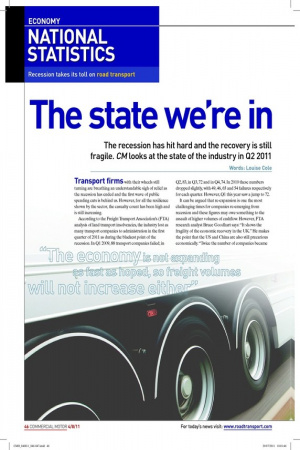 Page 42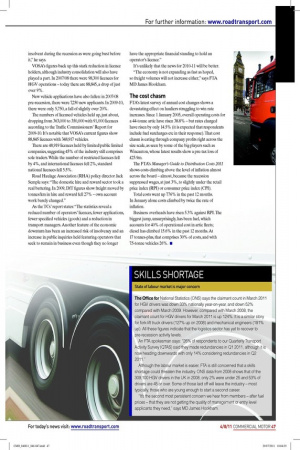 Page 41, 4th August 2011 —
The state we're in
Close
The recession has hit hard and the recovery is still fragile. CM looks at the state of the industry in Q2 2011 Words: Louise Cole Transport firms with their wheels still turning are breathing an understandable sigh of relief as the recession has ended and the irst wave of public spending cuts is behind us. However, for all the resilience shown by the sector, the casualty count has been high and is still increasing.
According to the Freight Transport Association's (FTA) analysis of land transport insolvencies, the industry lost as many transport companies to administration in the irst quarter of 2011 as during the blackest point of the recession. In Q1 2009, 88 transport companies failed; in Q2, 83, in Q3, 72 and in Q4, 74. In 2010 these numbers dropped slightly, with 49, 46, 65 and 54 failures respectively for each quarter. However, Q1 this year saw a jump to 72.
It can be argued that re-expansion is one the most challenging times for companies re-emerging from recession and these igures may owe something to the assault of higher volumes of cashlow. However, FTA research analyst Bruce Goodhart says: "It shows the fragility of the economic recovery in the UK." He makes the point that the US and China are also still precarious economically. "Twice the number of companies became insolvent during the recession as were going bust before it," he says.
VOSA's igures back up this stark reduction in licence holders, although industry consolidation will also have played a part. In 2007/08 there were 98,300 licences for HGV operations – today there are 88,845, a drop of just over 9%.
New vehicle applications have also fallen: in 2007-08 pre-recession, there were 7,250 new applicants. In 2009-10, there were only 5,750, a fall of slightly over 20%.
The numbers of licensed vehicles held up, just about, dropping from 363,000 to 350,000 with 91,000 licences according to the Trafic Commissioners' Report for 2009-10. It's notable that VOSA's current igures show 88,845 licences with 348,917 vehicles.
There are 48,919 licences held by limited/public limited companies, suggesting 45% of the industry still comprises sole traders. While the number of restricted licences fell by 4%, and international licences fell 2%, standard national licences fell 5.5%.
Road Haulage Association (RHA) policy director Jack Semple says: "The domestic hire and reward sector took a real battering. In 2009, DfT igures show freight moved by tonnes/km in hire and reward fell 27% – own account work barely changed." As the TCs' report states: "The statistics reveal a reduced number of operators' licences, fewer applications, fewer speciied vehicles (goods) and a reduction in transport managers. Another feature of the economic downturn has been an increased risk of insolvency and an increase in public inquiries held featuring operators that seek to remain in business even though they no longer have the appropriate inancial standing to hold an operator's licence." It's unlikely that the news for 2010-11 will be better.
"The economy is not expanding as fast as hoped, so freight volumes will not increase either," says FTA MD James Hookham.
The cost chasm
FTA's latest survey of annual cost changes shows a devastating effect on hauliers struggling to win rate increases. Since 1 January 2005, overall operating costs for a 44-tonne artic have risen 38.8% – but rates charged have risen by only 14.5% (it is expected that respondents include fuel surcharges etc in their response). That cost chasm is eating through company proits right across the size scale, as seen by some of the big players such as Wincanton, whose latest results show a pre-tax loss of £25.9m.
The FTA's Manager's Guide to Distribution Costs 2011 shows costs climbing above the level of inlation almost across the board – almost, because the recession suppressed wages, at just 3%, to slightly under the retail price index (RPI) or consumer price index (CPI).
Total costs went up 7.76% in the past 12 months. In January alone costs climbed by twice the rate of inlation.
Business overheads have risen 5.3% against RPI. The biggest jump, unsurprisingly, has been fuel, which accounts for 40% of operational cost in artic leets; diesel has climbed 15.6% in the past 12 months. At 17 tonnes-plus, that comprises 30% of costs, and with 7.5-tonne vehicles 26%. ■