Pioneering
4th August 2011
Page 37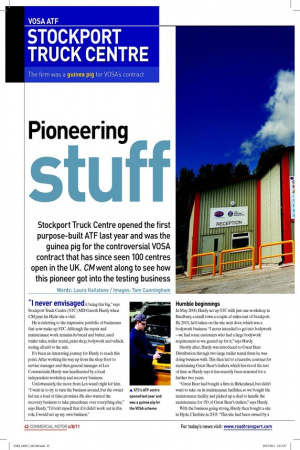 Page 38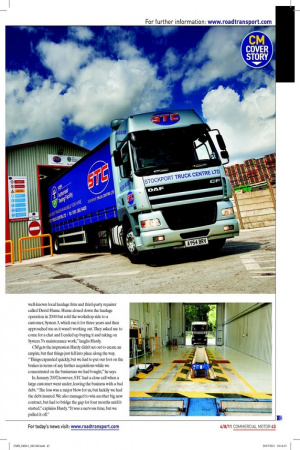 Page 39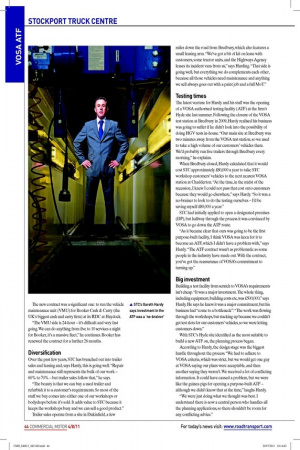 Page 37, 4th August 2011 —
Pioneering
Close
Stockport Truck Centre opened the first purpose-built ATF last year and was the guinea pig for the controversial VOSA contract that has since seen 100 centres open in the UK. CM went along to see how this pioneer got into the testing business Words: Laura Hailstone / Images: Tom Cunningham "I never envisaged it being this big," says Stockport Truck Centre (STC) MD Gareth Hardy when CM pays his Hyde site a visit.
He is referring to the impressive portfolio of businesses that now make up STC. Although the repair and maintenance work remains its bread and butter, used trailer sales, trailer rental, paint shop, bodywork and vehicle testing all add to the mix.
It's been an interesting journey for Hardy to reach this point. After working his way up from the shop loor to service manager and then general manager at Lex Commercials, Hardy was headhunted by a local independent workshop and recovery business.
Unfortunately, the move from Lex wasn't right for him. "I went in to try to turn the business around, but the owner fed me a load of false promises. He also wanted the recovery business to take precedence over everything else," says Hardy. "I'd told myself that if it didn't work out in this role, I would set up my own business."
Humble beginnings
In May 2000, Hardy set up STC with just one workshop in Bredbury, a small town a couple of miles east of Stockport. By 2001, he'd taken on the site next door, which was a bodywork business. "I never intended to get into bodywork – we had some customers who had a large bodywork requirement so we geared up for it," says Hardy.
Shortly after, Hardy was introduced to Great Bear Distribution through two large trailer rental irms he was doing business with. This then led to a lucrative contract for maintaining Great Bear's trailers, which has stood the test of time as Hardy says it has recently been renewed for a further two years.
"Great Bear had bought a irm in Birkenhead, but didn't want to take on its maintenance facilities, so we bought the maintenance facility and picked up a deal to handle the maintenance for 150 of Great Bear's trailers," says Hardy.
With the business going strong, Hardy then bought a site in Hyde, Cheshire in 2003. "This site had been owned by a well-known local haulage irm and third-party repairer called David Hume. Hume closed down the haulage operation in 2000 but sold the workshop side to a customer, System 3, which ran it for three years and then approached me as it wasn't working out. They asked me to come for a chat and I ended up buying it and taking on System 3's maintenance work," laughs Hardy.
CM gets the impression Hardy didn't set out to create an empire, but that things just fell into place along the way. "Things expanded quickly, but we had to put our foot on the brakes in terms of any further acquisitions while we concentrated on the businesses we had bought," he says.
In January 2007, however, STC had a close call when a large customer went under, leaving the business with a bad debt. "The loss was a major blow for us, but luckily we had the debt insured. We also managed to win another big new contract, but had to bridge the gap for four months until it started," explains Hardy. "It was a nervous time, but we pulled it off." The new contract was a signiicant one: to run the vehicle maintenance unit (VMU) for Booker Cash & Carry (the UK's biggest cash and carry irm) at its RDC at Haydock.
"The VMU side is 24-hour – it's dificult and very fast going. We can do anything from ive to 10 services a night for Booker, it's a massive leet," he continues. Booker has renewed the contract for a further 26 months.
Diversification
Over the past few years, STC has branched out into trailer sales and leasing and, says Hardy, this is going well. "Repair and maintenance still represents the bulk of our work – 60% to 70% – but trailer sales follow that," he says.
"The beauty is that we can buy a used trailer and refurbish it to a customer's requirements. So most of the stuff we buy comes into either one of our workshops or bodyshops before it's sold. It adds value to STC because it keeps the workshops busy and we can sell a good product." Trailer sales operate from a site in Dukinield, a few miles down the road from Bredbury, which also features a small leasing arm. "We've got a bit of kit on lease with customers, some tractor units, and the Highways Agency leases its incident vans from us," says Harding. "That side is going well, but everything we do complements each other, because all those vehicles need maintenance and anything we sell always goes out with a paint job and a full MoT."
Testing times
The latest venture for Hardy and his staff was the opening of a VOSA authorised testing facility (ATF) at the irm's Hyde site last summer. Following the closure of the VOSA test station at Bredbury in 2009, Hardy realised his business was going to suffer if he didn't look into the possibility of doing HGV tests in-house. "Our main site at Bredbury was two minutes away from the VOSA test station, so we used to take a high volume of our customers' vehicles there. We'd probably run ive trailers through Bredbury every morning," he explains.
When Bredbury closed, Hardy calculated that it would cost STC approximately £80,000 a year to take STC workshop customers' vehicles to the next nearest VOSA station at Chadderton. "At the time, in the midst of the recession, I knew I could not pass that cost onto customers because they would go elsewhere," says Hardy. "So it was a no-brainer to look to do the testing ourselves – I'd be saving myself £80,000 a year." STC had initially applied to open a designated premises (DP), but halfway through the process it was convinced by VOSA to go down the ATF route.
"As it became clear that ours was going to be the irst purpose-built facility, I think VOSA was keen for it to become an ATF, which I didn't have a problem with," says Hardy. "The ATF contract wasn't as problematic as some people in the industry have made out. With the contract, you've got the reassurance of VOSA's commitment to turning up."
Big investment
Building a test facility from scratch to VOSA's requirements isn't cheap. "It was a major investment. The whole thing, including equipment, building costs etc, was £500,000," says Hardy. He says he knew it was a major commitment, but his business had "come to a bottleneck": "The work was lowing through the workshops, but stacking up because we couldn't get test slots for our customers' vehicles, so we were letting customers down." With STC's Hyde site identiied as the most suitable to build a new ATF on, the planning process began.
According to Hardy, the design stage was the biggest hurdle throughout the process. "We had to adhere to VOSA criteria, which was strict, but we would get one guy at VOSA saying our plans were acceptable, and then another saying they weren't. We received a lot of conlicting information. It could have caused a problem, but we were like the guinea pigs for opening a purpose-built ATF – although we didn't know that at the time," laughs Hardy.
"We were just doing what we thought was best. I understand there is now a central person who handles all the planning applications, so there shouldn't be room for any conlicting advice."