Stan the
4th August 2011
Page 33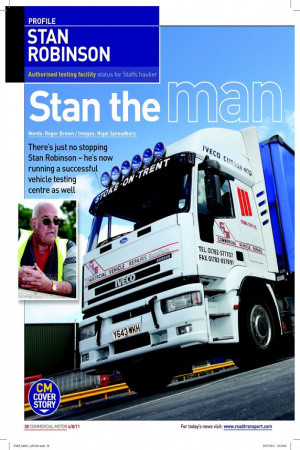 Page 35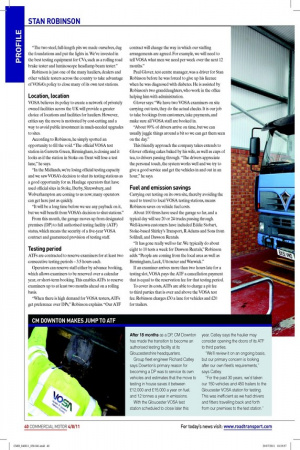 Page 33, 4th August 2011 —
Stan the
Close
Words: Roger Brown / Images: Nigel Spreadbury
There's just no stopping Stan Robinson – he's now running a successful vehicle testing centre as well
"The two steel, full-length pits we made ourselves, dug the foundations and put the lights in. We've invested in the best testing equipment for CVs, such as a rolling road brake tester and luminoscope headlamp beam tester." Robinson is just one of the many hauliers, dealers and other vehicle testers across the country to take advantage of VOSA's policy to close many of its own test stations.
Location, location
VOSA believes its policy to create a network of privately owned facilities across the UK will provide a greater choice of locations and facilities for hauliers. However, critics say the move is motivated by cost-cutting and a way to avoid public investment in much-needed upgrades to sites.
According to Robinson, he simply spotted an opportunity to ill the void. "The oficial VOSA test station in Garretts Green, Birmingham, is closing and it looks as if the station in Stoke-on-Trent will lose a test lane," he says.
"In the Midlands, we're losing oficial testing capacity and we saw VOSA's decision to shut its testing stations as a good opportunity for us. Haulage operators that have used oficial sites in Stoke, Derby, Shrewsbury, and Wolverhampton are coming to us now; many operators can get here just as quickly.
"It will be a long time before we see any payback on it, but we will beneit from VOSA's decision to shut stations." From this month, the garage moves up from designated premises (DP) to full authorised testing facility (ATF) status, which means the security of a ive-year VOSA contract and guaranteed provision of testing staff.
Testing period
ATFs are contracted to reserve examiners for at least two consecutive testing periods – 3.5 hours each.
Operators can reserve staff either by advance booking, which allows examiners to be reserved over a calendar year, or short-term booking. This enables ATFs to reserve examiners up to at least two months ahead on a rolling basis.
"When there is high demand for VOSA testers, ATFs get preference over DPs," Robinson explains. "Our ATF contract will change the way in which our stafing arrangements are agreed. For example, we will need to tell VOSA what men we need per week over the next 12 months." Paul Glover, test centre manager, was a driver for Stan Robinson before he was forced to give up his licence when he was diagnosed with diabetes. He is assisted by Robinson's two granddaughters, who work in the ofice helping him with administration.
Glover says: "We have two VOSA examiners on site carrying out tests, they do the actual checks. It is our job to take bookings from customers, take payments, and make sure all VOSA staff are booked in.
"About 99% of drivers arrive on time, but we can usually juggle things around a bit so we can get them seen on the day." This friendly approach the company takes extends to Glover offering cakes baked by his wife, as well as cups of tea, to drivers passing through. "The drivers appreciate the personal touch, the system works well and we try to give a good service and get the vehicles in and out in an hour," he says.
Fuel and emission savings
Carrying out testing on its own site, thereby avoiding the need to travel to local VOSA testing stations, means Robinson saves on vehicle fuel costs.
About 100 irms have used the garage so far, and a typical day will see 20 or 24 trucks passing through. Well-known customers have included Eddie Stobart, Stoke-based Shirley's Transport, R Adams and Sons from Solihull, and Dawson Rentals.
"It has gone really well so far. We typically do about eight to 10 tests a week for Dawson Rentals," Robinson adds. "People are coming from the local area as well as Birmingham, Leek, Uttoxeter and Warwick." If an examiner arrives more than two hours late for a testing slot, VOSA pays the ATF a cancellation payment that is equal to the reservation fee for that testing period.
To cover its costs, ATFs are able to charge a pit fee to third parties that is over and above the VOSA test fee. Robinson charges £30 a lane for vehicles and £20 for trailers.