Testing their
4th August 2011
Page 27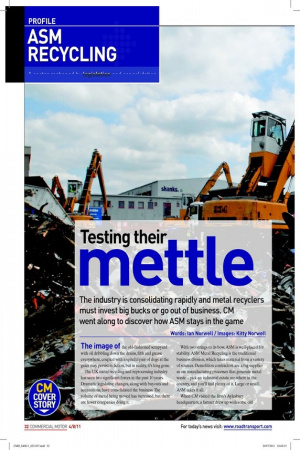 Page 29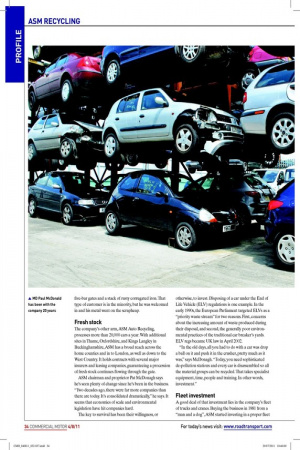 Page 30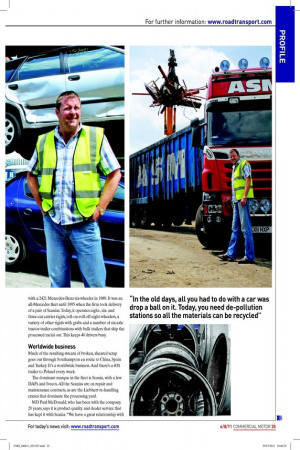 Page 32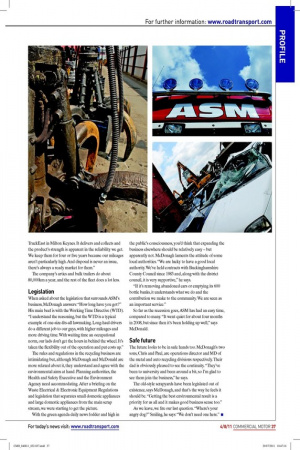 Page 27, 4th August 2011 —
Testing their
Close
The industry is consolidating rapidly and metal recyclers must invest big bucks or go out of business. CM went along to discover how ASM stays in the game
Words: Ian Norwell / Images: Kitty Norwell
The image of the old-fashioned scrapyard
with oil dribbling down the drains, ilth and grease everywhere, coupled with a spiteful pair of dogs at the gates may persist in iction, but in reality, it's long gone.
The UK metal recycling and reprocessing industry has seen two signiicant forces in the past 10 years. Dramatic legislative changes, along with buyouts and acquisitions, have consolidated the business. The volume of metal being moved has increased, but there are fewer companies doing it. With two strings to its bow, ASM is well-placed for stability. ASM Metal Recycling is the traditional business division, which takes material from a variety of sources. Demolition contractors are a big supplier as are manufacturing processes that generate metal waste – pick an industrial estate anywhere in the country, and you'll ind plenty of it. Large or small, ASM takes it all.
When CM visited the irm's Aylesbury headquarters, a farmer drew up with some old ive-bar gates and a stack of rusty corrugated iron. That type of customer is in the minority, but he was welcomed in and his metal went on the scrapheap.
Fresh stock
The company's other arm, ASM Auto Recycling, processes more than 20,000 cars a year. With additional sites in Thame, Oxfordshire, and Kings Langley in Buckinghamshire, ASM has a broad reach across the home counties and in to London, as well as down to the West Country. It holds contracts with several major insurers and leasing companies, guaranteeing a procession of fresh stock continues lowing through the gate.
ASM chairman and proprietor Pat McDonagh says he's seen plenty of change since he's been in the business. "Two decades ago, there were far more companies than there are today. It's consolidated dramatically," he says. It seems that economies of scale and environmental legislation have hit companies hard.
The key to survival has been their willingness, or otherwise, to invest. Disposing of a car under the End of Life Vehicle (ELV) regulations is one example. In the early 1990s, the European Parliament targeted ELVs as a "priority waste stream" for two reasons. First, concerns about the increasing amount of waste produced during their disposal, and second, the generally poor environmental practices of the traditional car breaker's yards. ELV regs became UK law in April 2002.
"In the old days, all you had to do with a car was drop a ball on it and push it in the crusher, pretty much as it was," says McDonagh. "Today, you need sophisticated de-pollution stations and every car is disassembled so all the material groups can be recycled. That takes specialist equipment, time, people and training. In other words, investment."
Fleet investment
A good deal of that investment lies in the company's leet of trucks and cranes. Buying the business in 1981 from a "man and a dog", ASM started investing in a proper leet with a 2421 Mercedes-Benz six-wheeler in 1989. It was an all-Mercedes leet until 1995 when the irm took delivery of a pair of Scanias. Today, it operates eight-, sixand three-car carrier rigids, roll-on-roll-off eight-wheelers, a variety of other rigids with grabs and a number of six-axle tractor-trailer combinations with bulk trailers that ship the processed metal out. This keeps 40 drivers busy.
Worldwide business
Much of the resulting stream of broken, sheared scrap goes out through Southampton en route to China, Spain and Turkey. It's a worldwide business. And there's a 40ft trailer to Poland every week.
The dominant marque in the leet is Scania, with a few DAFs and Ivecos. All the Scanias are on repair and maintenance contracts, as are the Liebherr re-handling cranes that dominate the processing yard.
MD Paul McDonald, who has been with the company 20 years, says it is product quality and dealer service that has kept it with Scania. "We have a great relationship with TruckEast in Milton Keynes. It delivers and collects and the product's strength is apparent in the reliability we get. We keep them for four or ive years because our mileages aren't particularly high. And disposal is never an issue, there's always a ready market for them." The company's artics and bulk trailers do about 80,000km a year, and the rest of the leet does a lot less.
Legislation
When asked about the legislation that surrounds ASM's business, McDonagh answers: "How long have you got?" His main beef is with the Working Time Directive (WTD). "I understand the reasoning, but the WTD is a typical example of one-size-its-all lawmaking. Long-haul drivers do a different job to our guys, with higher mileages and more driving time. With waiting time an occupational norm, our lads don't get the hours in behind the wheel. It's taken the lexibility out of the operation and put costs up." The rules and regulations in the recycling business are intimidating but, although McDonagh and McDonald are more relaxed about it, they understand and agree with the environmental aims at hand. Planning authorities, the Health and Safety Executive and the Environment Agency need accommodating. After a brieing on the Waste Electrical & Electronic Equipment Regulations and legislation that separates small domestic appliances and large domestic appliances from the main scrap stream, we were starting to get the picture.
With the green agenda daily news fodder and high in the public's consciousness, you'd think that expanding the business elsewhere should be relatively easy – but apparently not. McDonagh laments the attitude of some local authorities. "We are lucky to have a good local authority. We've held contracts with Buckinghamshire County Council since 1983 and, along with the district council, it is very supportive," he says.
"If it's removing abandoned cars or emptying its 600 bottle banks, it understands what we do and the contribution we make to the community. We are seen as an important service." So far as the recession goes, ASM has had an easy time, compared to many. "It went quiet for about four months in 2008, but since then it's been holding up well," says McDonald.
Safe future
The future looks to be in safe hands too. McDonagh's two sons, Chris and Paul, are operations director and MD of the metal and auto recycling divisions respectively. Their dad is obviously pleased to see the continuity. "They've been to university and been around a bit, so I'm glad to see them join the business," he says.
The old-style scrapyards have been legislated out of existence, says McDonagh, and that's the way he feels it should be. "Getting the best environmental result is a priority for us all and it makes good business sense too."
As we leave, we ire our last question. "Where's your angry dog?" Smiling, he says: "We don't need one here." ■