Make those changes
4th August 2011
Page 2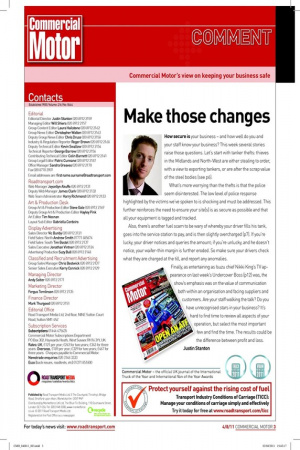 Page 2, 4th August 2011 —
Make those changes
Close
How secure is your business – and how well do you and your staff know your business? This week several stories raise those questions. Let's start with tanker thefts: thieves in the Midlands and North-West are either stealing to order, with a view to exporting tankers, or are after the scrap value of the steel bodies (see p6).
What's more worrying than the thefts is that the police seem disinterested. The low level of police response highlighted by the victims we've spoken to is shocking and must be addressed. This further reinforces the need to ensure your site(s) is as secure as possible and that all your equipment is tagged and tracked.
Also, there's another fuel scam to be wary of whereby your driver fills his tank, goes into the service station to pay, and is then slightly overcharged (p7). If you're lucky, your driver notices and queries the amount; if you're unlucky, and he doesn't notice, your waifer-thin margin is further eroded. So make sure your drivers check what they are charged at the till, and report any anomalies.
Finally, as entertaining as Isuzu chief Nikki King's TV appearance on last week's Undercover Boss (p12) was, the show's emphasis was on the value of communication both within an organisation and facing suppliers and customers. Are your staff walking the talk? Do you have unrecognised stars in your business? It's hard to find time to review all aspects of your operation, but select the most important few and find the time. The results could be the difference between profit and loss. Justin Stanton