It's all about the money: Driver CPC is too expensive
4th August 2011
Page 18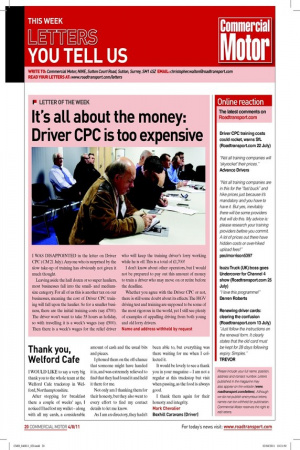 Page 18, 4th August 2011 —
It's all about the money: Driver CPC is too expensive
Close
I WAS DISAPPOINTED in the letter on Driver CPC (CM 21 July). Anyone who is surprised by the slow take-up of training has obviously not given it much thought.
Leaving aside the half dozen or so super hauliers, most businesses fall into the smalland mediumsize category. For all of us this is another tax on our businesses, meaning the cost of Driver CPC training will fall upon the haulier. So for a smaller business, there are the initial training costs (say £700). The driver won't want to take 35 hours as holiday, so with travelling it is a week's wages (say £500). Then there is a week's wages for the relief driver who will keep the training driver's lorry working while he is off. This is a total of £1,700!
I don't know about other operators, but I would not be prepared to pay out this amount of money to train a driver who may move on or retire before the deadline.
Whether you agree with the Driver CPC or not, there is still some doubt about its effects. The HGV driving test and training are supposed to be some of the most rigorous in the world, yet I still see plenty of examples of appalling driving from both young and old lorry drivers.
Name and address withheld by request