Leading from the heart
4th August 2011
Page 14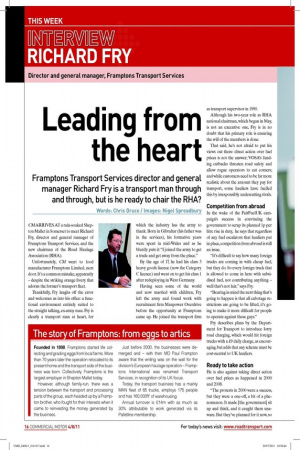 Page 15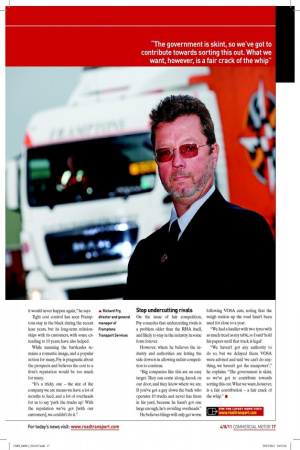 Page 14, 4th August 2011 —
Leading from the heart
Close
Framptons Transport Services director and general manager Richard Fry is a transport man through and through, but is he ready to chair the RHA?
Words: Chris Druce / Images: Nigel Spreadbury
CM ARRIVES AT a rain-soaked Shepton Mallet in Somerset to meet Richard Fry, director and general manager of Framptons Transport Services, and the new chairman of the Road Haulage Association (RHA).
Unfortunately, CM went to food manufacturer Framptons Limited, next door. It's a common mistake, apparently – despite the striking orange livery that adorns the former's transport leet.
Thankfully, Fry laughs off the error and welcomes us into his ofice: a functional environment entirely suited to the straight talking, ex-army man. Fry is clearly a transport man at heart, for which the industry has the army to thank. Born in Gibraltar (his father was in the services), his formative years were spent in mid-Wales and as he bluntly puts it: "I joined the army to get a trade and get away from the place." By the age of 17, he had his class 3 heavy goods licence (now the Category C licence) and went on to get his class 1 after redeploying in West Germany.
Having seen some of the world and now married with children, Fry left the army and found work with recruitment irm Manpower Overdrive before the opportunity at Framptons came up. He joined the transport irm as transport supervisor in 1990.
Although his two-year role as RHA national chairman, which began in May, is not an executive one, Fry is in no doubt that his primary role is ensuring the will of the members is done.
That said, he's not afraid to put his views out there: direct action over fuel prices is not the answer; VOSA's funding cutbacks threaten road safety and allow rogue operators to cut corners; and while customers need to be far more realistic about the amount they pay for transport, some hauliers have fuelled this by irresponsibly undercutting rivals.
Competition from abroad
In the wake of the FairFuelUK campaign's success in convincing the government to scrap its planned 1p per litre rise in duty, he says that regardless of any fuel escalators that hauliers put in place, competition from abroad is still an issue.
"It's dificult to say how many foreign trucks are coming in with cheap fuel, but they do. So every foreign truck that is allowed to come in here with subsidised fuel, not contributing anything – well that's not fair," says Fry.
"Bearing in mind the next thing that's going to happen is that all cabotage restrictions are going to be lifted, it's going to make it more dificult for people to operate against these guys." Fry describes plans by the Department for Transport to introduce lorry road charging, which would hit foreign trucks with a £9 daily charge, as encouraging, but adds that any scheme must be cost-neutral to UK hauliers.
Ready to take action
He is also against taking direct action over fuel prices as happened in 2000 and 2008.
"The protests in 2000 were a success, but they were a one-off, a bit of a phenomenon. It made [the government] sit up and think, and it caught them unaware. But they've planned for it now, so it would never happen again," he says.
Tight cost control has seen Framptons stay in the black during the recent lean years, but its long-term relationships with its customers, with some extending to 10 years, have also helped.
While manning the barricades remains a romantic image, and a popular notion for many, Fry is pragmatic about the prospects and believes the cost to a irm's reputation would be too much for many.
"It's a tricky one – the size of the company we are means we have a lot of mouths to feed, and a lot of overheads for us to say 'park the trucks up'. With the reputation we've got [with our customers], we couldn't do it."
Stop undercutting rivals
On the issue of fair competition, Fry concedes that undercutting rivals is a problem older than the RHA itself, and likely to stay in the industry in some form forever.
However, where he believes the industry and authorities are letting the side down is in allowing unfair competition to continue.
"Big companies like this are an easy target. They can come along, knock on our door, and they know where we are. If you've got a guy down the back who operates 10 trucks and never has them in his yard, because he hasn't got one large enough, he's avoiding overheads." He believes things will only get worse following VOSA cuts, noting that the weigh station up the road hasn't been used for close to a year.
"We had a haulier with two tyres with as much tread as my table, so I said 'hold his papers until that truck is legal'.
"We haven't got any authority to do so, but we delayed them. VOSA were advised and said 'we can't do anything, we haven't got the manpower'," he explains. "The government is skint, so we've got to contribute towards sorting this out. What we want, however, is a fair contribution – a fair crack of the whip." n