The summer of profit
4th August 2011
Page 12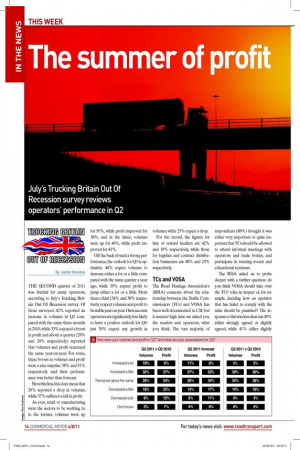 Page 13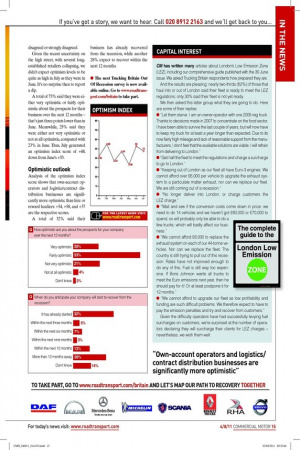 Page 12, 4th August 2011 —
The summer of profit
Close
July's Trucking Britain Out Of Recession survey reviews operators' performance in Q2
By Justin Stanton
THE SECOND quarter of 2011 was fruitful for many operators, according to July's Trucking Britain Out Of Recession survey. Of those surveyed, 42% reported an increase in volumes in Q2 compared with the same three months in 2010, while 33% enjoyed a boost in proit and about a quarter (28% and 24% respectively) reported that volumes and proit remained the same year-on-year. For some, these boosts in volumes and proit were a nice surprise: 38% and 31% respectively said their performance was better than forecast.
Nevertheless, this does mean that 26% reported a drop in volumes, while 37% suffered a fall in proit.
As ever, retail or manufacturing were the sectors to be working in: in the former, volumes were up for 50%, while proit improved for 38%; and in the latter, volumes were up for 46%, while proit improved for 41%.
Off the back of such a strong performance, the outlook for Q3 is optimistic: 44% expect volumes to increase either a lot or a little compared with the same quarter a year ago, while 35% expect proit to jump either a lot or a little. More than a third (34% and 38% respectively) expect volumes and proit to be stable year-on-year. Own-account operators are signiicantly less likely to have a positive outlook for Q3: just 30% expect any growth in volumes, while 23% expect a drop.
For the record, the igures for hire or reward hauliers are 42% and 19% respectively, while those for logistics and contract distribution businesses are 48% and 20% respectively.
TCs and VOSA
The Road Haulage Association's (RHA) concerns about the relationship between the Trafic Commissioners (TCs) and VOSA has been well-documented in CM, but it seemed high time we asked you, the readers and operators, what you think. The vast majority of
respondents (88%) thought it was either very important or quite important that TCs should be allowed to attend informal meetings with operators and trade bodies, and participate in training events and educational seminars.
The RHA asked us to probe deeper with a further question: do you think VOSA should take over the TCs' roles in respect of, for example, deciding how an operator that has failed to comply with the rules should be punished? The response to this was less clear cut: 49% either strongly agreed or slightly agreed, while 41% either slightly disagreed or strongly disagreed.
Given the recent uncertainty on the high street, with several longestablished retailers collapsing, we didn't expect optimism levels to be quite as high in July as they were in June. It's no surprise then to report a dip.
A total of 73% said they were either very optimistic or fairly optimistic about the prospects for their business over the next 12 months – that's just three points lower than in June. Meanwhile, 25% said they were either not very optimistic or not at all optimistic, compared with 23% in June. Thus, July generated an optimism index score of +48, down from June's +53.
Optimistic outlook
Analysis of the optimism index score shows that own-account operators and logistics/contract distribution businesses are signiicantly more optimistic than hire or reward hauliers: +54, +58, and +37 are the respective scores.
A total of 32% said their business has already recovered from the recession, while another 28% expect to recover within the next 12 months.
● The next Trucking Britain Out Of Recession survey is now available online. Go to www.roadtransport.com/britain to take part.