CAPITAL INTEREST
4th August 2011
Page 13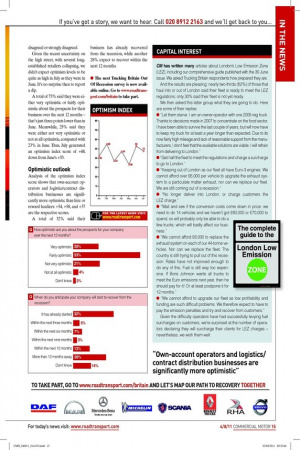 Page 13, 4th August 2011 —
CAPITAL INTEREST
Close
CM has written many articles about London's Low Emission Zone (LEZ), including our comprehensive guide published with the 30 June issue. We asked Trucking Britain respondents how prepared they are.
And the results are pleasing: nearly two-thirds (62%) of those that haul into or out of London said their fleet is ready to meet the LEZ regulations; only 30% said their fleet is not yet ready.
We then asked this latter group what they are going to do. Here are some of their replies:
● "Let them starve. I am an owner-operator with one 2005-reg truck. Thanks to decisions made in 2007 to concentrate on the food sector, I have been able to survive the last couple of years, but will now have to keep my truck for at least a year longer than expected. Due to its now fairly high mileage and lack of reasonable support from the manufacturers, I don't feel that the available solutions are viable. I will refrain from delivering to London." ● "Get half the fleet to meet the regulations and charge a surcharge to go to London." ● "Keeping out of London as our fleet all have Euro-3 engines. We cannot afford over £6,000 per vehicle to upgrade the exhaust system to a particulate matter exhaust, nor can we replace our fleet. We are still coming out of a recession." ● "No longer deliver into London, or charge customers the LEZ charge." ● "Wait and see if the conversion costs come down in price: we need to do 14 vehicles and we haven't got £60,000 or £70,000 to spend, so will probably only be able to do a
few trucks, which will badly affect our busi ness."
● "We cannot afford £6,000 to replace the exhaust system on each of our 44-tonne ve
hicles. Nor can we replace the fleet. The country is still trying to pull out of this recession. Rates have not improved enough to do any of this. Fuel is still way too expensive. If Boris Johnson wants all trucks to meet the Euro emissions next year, then he should pay for it! Or at least postpone it for 12 months."
● "We cannot afford to upgrade our fleet as low profitability and funding are such difficult problems. We therefore expect to have to pay the emission penalties and try and recover from customers."
Given the difficulty operators have had successfully levying fuel surcharges on customers, we're surprised at the number of operators declaring they will surcharge their clients for LEZ charges – nevertheless, we wish them well.