Illegal disc-sharing hauliers get knuckles wrapped by TC Aitken
4th August 2011
Page 10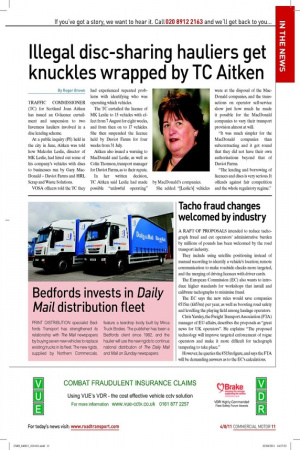 Page 10, 4th August 2011 —
Illegal disc-sharing hauliers get knuckles wrapped by TC Aitken
Close
By Roger Brown
TRAFFIC COMMISSIONER (TC) for Scotland Joan Aitken has issued an O-licence curtailment and suspension to two Inverness hauliers involved in a disc lending scheme.
At a public inquiry (PI) held in the city in June, Aitken was told how Malcolm Leslie, director of MK Leslie, had hired out some of his company's vehicles with discs to businesses run by Gary MacDonald – Daviot Farms and HRL Scrap and Waste Solutions.
VOSA oficers told the TC they had experienced repeated problems with identifying who was operating which vehicles.
The TC curtailed the licence of MK Leslie to 15 vehicles with effect from 7 August for eight weeks, and from then on to 17 vehicles. She then suspended the licence held by Daviot Farms for four weeks from 31 July.
Aitken also issued a warning to MacDonald and Leslie, as well as Colin Thomson, transport manager for Daviot Farms, as to their repute.
In her written decision, TC Aitken said Leslie had made possible "unlawful operating" by MacDonald's companies.
She added: "[Leslie's] vehicles were at the disposal of the MacDonald companies, and the transactions on operator self-service show just how much he made it possible for the MacDonald companies to vary their transport provision almost at will.
"It was much simpler for the MacDonald companies than subcontracting and it got round that they did not have their own authorisations beyond that of Daviot Farms.
"The lending and borrowing of licences and discs is very serious. It offends against fair competition and the whole regulatory regime."